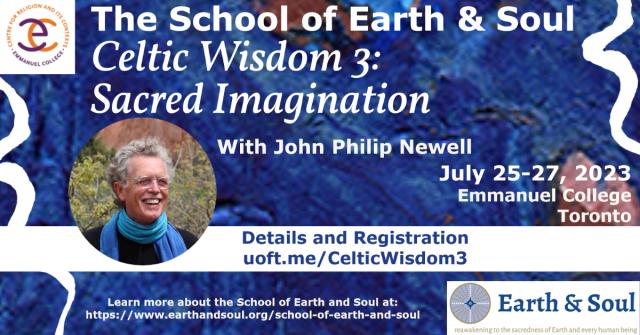 Credit: Centre for Religion and Its Contexts
Event Date: July 25, 2023 to July 27, 2023

Victoria College Alumni Hall 73 Queen's Park Crescent Toronto, ON M5S 1K7 Canada
In person
Body
Please join us for a three-day retreat on Celtic Wisdom with John Philip Newell and Cami Twilling.
In 2016, John Philip Newell began a teaching initiative that is called The School of Earth & Soul. Its purpose is to reawaken awareness of the sacred in all things through the recovery of Celtic wisdom for today and to help translate this awareness into compassionate action. The school follows a three-year cycle of teaching in its annual retreats. Participants may join at any stage in the three-year cycle and attend any of the Earth & Soul venues across the country.
In July, Emmanuel College's Centre for Religion and Its Contexts is hosting the Celtic Wisdom 3: Sacred Imagination retreat, where participants will be invited to reawaken to the sacredness of the human imagination and compassionate action through the teachings of Alexander John Scott, George MacLeod and Kenneth White.
Please visit the Centre's website for bios, fees, registration and schedule.