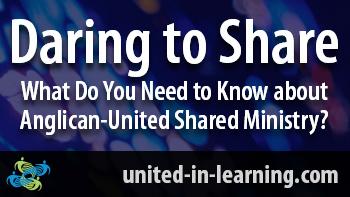 Event Date: January 25, 2022 from 12:00 pm EST to 1:00 pm EST

Online
Body
Course Description
Shared ministries witness to our fundamental unity in Christ. Those who engage in shared ministries tell us that generosity, grace, and respect for differences make the experience joyous.
We invite you to hear some stories of Anglican-United Shared Ministries that have become important voices of Christian witness within their communities. We'll talk about what's working, what they're hoping for, and what our two denominations might learn about forming new alliances, based on the experience of the ones that are already functioning well.
This webinar is primarily intended for Judicatory Officials: Bishops and Diocesan staff, Regional Council Executive Ministers and staff members. In this webinar we will:
consider why you might want to encourage congregations in your Region/Diocese to explore this option;
hear some stories of vital ecumenical shared ministries and partnerships that are already meeting the needs of their communities and offering important Christian witness;
discuss ways to encourage the development of new Ecumenical Shared Ministries, and the role of judicatory officials in helping new congregations to consider this option.
A webinar on shared ministries for Congregational Leaders will be held on March 8, 2022. Register for one or both webinars using the link below.
Registration
For more information and to register, visit United in Learning.