The United Church of Canada's 43rd Moderator is the Rev. Dr. Richard Bott of Vancouver, British Columbia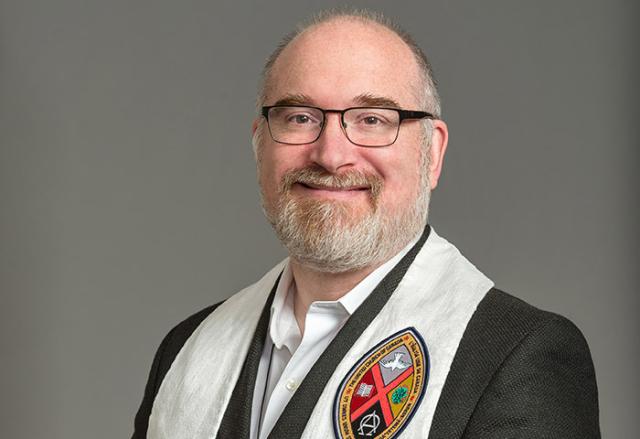 The Right Rev. Dr. Richard Bott, 43rd Moderator of The United Church of Canada
Credit: The United Church of Canada
"The United Church of Canada has a wideness of its theologies and its practices of faith that's enriched, not only as we learn our own stories, but as we listen carefully and celebrate and learn from each other's understanding of Creator," says the United Church's 43rd Moderator, the Right Rev. Dr. Richard Bott.
Born in Marathon, ON, on the traditional and unceded territory of the Biigtigong Nishnaabeg, and ordained in 1994, the Rev. Bott has lived his life "as a beloved child of God" within the United Church. He has served communities of faith in Ontario and British Columbia, most recently Pacific Spirit United Church in Vancouver, and is well known for his skills as a leader, writer, and educator, and an active user of social media.
Elected at the 43rd General Council in Oshawa, ON, in July 2018, Bott spoke about the need for the church to build trust, and to not be afraid to talk about our collective purpose. He offered this as a starting point: "To help people to enter into and deepen their relationship with God … through the stories and person of Jesus of Nazareth. How do we do that? With the most radical love that we know: a true love of Holy Mystery, a true love of ourselves, and a true love of all other parts and people in God's creation."
Moderator Bott is passionate about the possibilities that we have in front of us as a church, and encourages all of us to ask and attend to both the pain and the joy that is being expressed, and then to take action on what we're told. Entering the role of Moderator at a time when significant changes to church structures are underway, he believes that the purpose of those structures is to help the wide diversity of communities of faith across the church live into their ministries.
He is also taking on the role at a time when the Executive of the General Council has defined the triennium's focus as one on discipleship, a focus he welcomes. "I believe that each of us needs to explore what this faith in God means to us; and what Jesus means to us," he says. "As we explore it as individuals, I hope that we can find way of exploring it as communities of faith and fellowship."
Moderator Bott has
served in the congregations of Trinity United Church in Iroquois Falls, ON, St. Marys United Church in St. Marys, ON, St. Andrews-Haney (which, with Hammond United, became Golden Ears United Church), in Maple Ridge, B.C., and Dunbar Heights (which, with Ryerson United, became Pacific Spirit United Church) in Vancouver
served on presbytery committees and facilitated workshops and worship services in a number of Conferences
taken part in worship, interchurch/interfaith, and stewardship committees and other working groups of the General Council
facilitated the work of small groups
chaired a presbytery (Huron Perth) and a Conference (London)
written prayers, calls, and litanies for Gathering, the United Church's worship planning resources
managed a Facebook group of over 700 United Church ministers
He will work from both Toronto and Vancouver, to continue to grow his relationship not only with the church but also with his daughter, Rowan.