Our New Creed calls us to "live with respect in Creation" as stewards and caretakers of our planet.
Together, we support programs in Canada and around the globe helping people cope with our rapidly changing climate. But we're not just interested in dealing with the effects of climate change; we also want to be part of the solution. As you read the stories in this Impact Report, know that you are a difference-maker. Thank you so much.
Agroecology in El Salvador: A Rights-Based Approach to Growing Food
The Association of Economic and Social Development Santa Marta (ADES), a Mission & Service partner, is located in an area of Central America that is very vulnerable to climate change. This hot, dry region regularly experiences drought. Mining projects that also affect the environment and the people in the region led ADES and other community organizations to act to protect the community's right to a healthy environment.
An example of how ADES is responding is a three-year agroecology project co-funded by the Manitoba Council for International Cooperation, the Mission & Service Fund, and The United Church of Canada Foundation. ADES is working closely with the community to grow food in a rural region of Guacotecti in El Salvador, promoting sustainable agriculture that protects biodiversity, maintains the integrity of the land, and upholds rural culture.
The centre of the project is the Dora Alicia Sorto School Farm, where rural families, mainly families led by women, learn about agroecology. The school provides training, technical expertise, and quality seeds and tools. It focuses on preserving the surrounding environment and on upholding gender and human rights as part of its approach to food security.
Agroecology benefits the land and water because it promotes recycling nutrients back into the soil. It also reduces production costs, lessening the financial burden on rural farmers.
Your gifts to Mission & Service helps support ADES' agroecology project. Thank you for your generosity!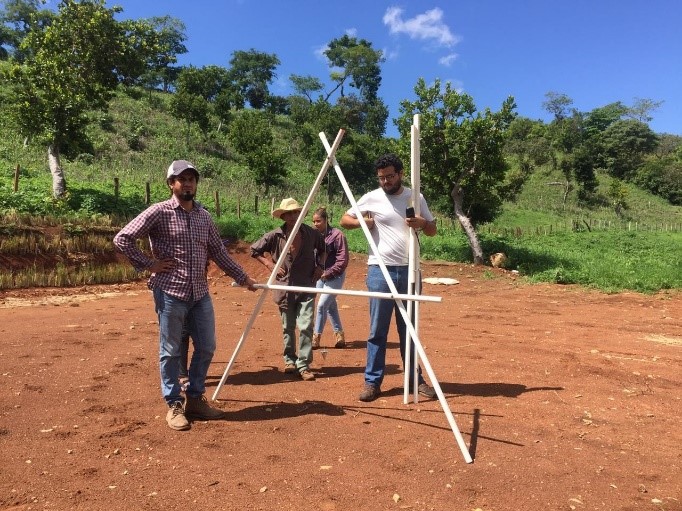 Falling in Love with Earth
An awakening. That's how Sarah Arthurs describes what she experienced just before she came up with the idea for "Green Exodus"—gatherings of people who find themselves falling deeply in love with Earth and want to help it flourish.
In 2019, Arthurs read articles in The Tyee magazine by William Rees, originator of the carbon footprint model. "He described how technology was not going to save us from the destruction of climate change, and it was as if the Earth came calling! I was left with new awareness and big questions," she says.
Those questions evolved into the idea for Green Exodus gatherings.
With help from an Embracing the Spirit grant supported through your Mission & Service gifts, the support of EDGE Network, and an advisory team, Green Exodus meetings were born.
Throughout the pandemic, the group met online to explore the spiritual questions raised by climate change and the theologies and spiritual practices that were emerging as a result.
Some of the practices used are highlighted on the website GreenExodus.ca. A key probing question runs through all of them: How can we be good soil for the love of Earth?
"You can only see as sacred what you love. You can only save what you love. We need to practise falling in love with Earth again," says Arthurs.
Your gifts through Mission & Service support unique, transformative ministries like Green Exodus. Thank you for your generosity.
0
Knowledge For Life: Habtamu's Story
Habtamu and his family live in Ethiopia, where Habtamu farms the land he inherited from his father. Unfortunately, when the land was passed on to him, it wasn't fertile. Teams of oxen used for agriculture had eroded the soil, and the harsh sunlight meant that anything planted in it died.
Thanks to a conservation agriculture program supported by the Canadian Foodgrains Bank,* a Mission & Service partner, Habtamu and his family learned farming techniques that reduce soil erosion, improve soil fertility, and increase productivity. For example, they are using crop by-products as a cover for their soil, preventing it from being exposed to sunlight and rainwater. The impact is incredible..
"Earlier, we were hungry and the land was infertile, but now for the last eight years we have been harvesting a good crop. I am happy we are trying to alleviate our problem, change our lives, and feed our children, "explains Yitayish, Habtamu's wife, while he proudly shows a barn full of grain.
"Before, we only had one or two grain stocks. I used to feed my children with maize I bought at the market, but now I can satisfy the needs of my family and supply the market," Habtamu says.
Your generosity through Mission & Service supports the Canadian Foodgrains Bank. This is one of the many ways your gifts help end hunger.
*The United Church of Canada provided funding to the Scaling-Up Conservation Agriculture program of the Canadian Foodgrains Bank, funded by the Government of Canada. This story is one example of a project from that program. Program partners include the Mennonite Central Committee and the Migbare Senay Children and Family Support Organization (MSCFSO).
Summer Youth Climate Leaders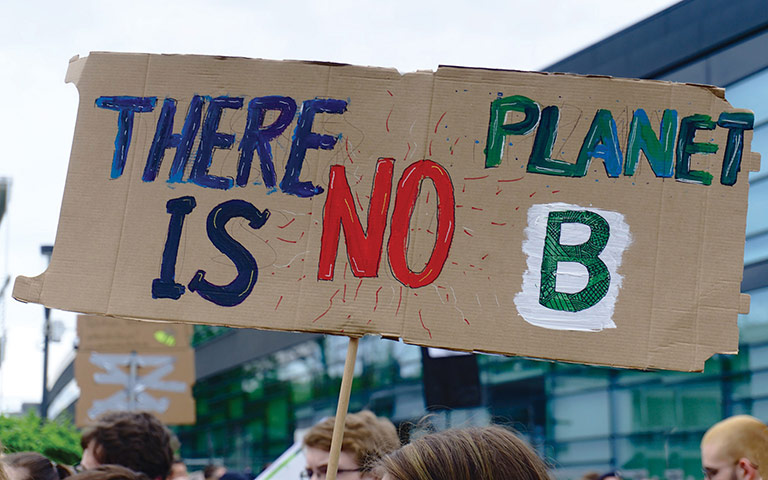 Young people are leaders of transformation in our world. The United Church believes that youth who are involved in climate activism and justice today will become actively engaged adults with the passion and innovation toward improving the future.
A brand-new youth climate program is designed to support the United Church's strategic objective to "Raise our spirited voice, shifting towards greater public recognition of both the issues and United Church leadership in responding."
In the summer of 2023, young climate activists will gather for eight weeks to learn from experts in the field of climate justice, both inside and outside the church. The outreach program will have 16 youth employed, alongside two young adult leaders.
Participants will have opportunities to meet, gather, act for change, and influence church climate policy. They will work on climate advocacy projects designed to effect change in society and the church. Youth will be supported in moving beyond worry and anxiety about the climate by helping them realize that being part of the solution is a source of hope. At least one of the weeks will be spent in residence, with the Moderator present.
Your Mission & Service gifts give young people a chance to flourish in the important work of climate justice. Thank you for your generosity.
0
Three Ways to Make a Gift
Call 1-800-268-3781 ext. 2738
Mail a cheque:
The United Church of Canada
3250 Bloor St. West, Suite 200
Toronto ON M8X 2Y4
Questions? Feedback? Let's talk. Give us a call or drop us a line at ms@united-church.ca . Follow us on Facebook.
The General Council Office of The United Church of Canada complies with the Canadian Council for International Cooperation Code of Ethics. The United Church is the first denomination in Canada to sign the United Nations' Principles of Responsible Investment. Charity number: 10810-2435-RR0003
For the Love of Creation
For the Love of Creation is a national ecumenical campaign for climate justice. The United Church of Canada is one of its founding members. You and your community of faith are invited to pray, learn, and act for climate justice as part of For the Love of Creation's Earth Week, April 16‒23. For more ideas visit our Climate Change page.