690,000,000 people will go to bed hungry tonight. Here's how your gifts help.
Emmanuel Baya founded the Magarini Children Centre, where over 287 Kenyan children receive nutritious food and education. After Baya graduated from the Asian Rural Institute (ARI), a Mission & Service partner, he built an 8-hectare organic demonstration farm next to the Children Centre. An agricultural training hub, it now serves seven communities. Your gifts through Mission & Service continue to help train staff and volunteers at the farm. Here are five Baya quotes to inspire you in your life's mission:
"Once a problem is shared, it's half solved."
"When we grow our own food, we heal the broken relationship between us and nature."
"When we discover our potential, we begin to help others discover theirs."
"The best way to not feel hopeless is to get up and do something."
"Don't wait for good things to happen to you. Go out and make them happen so that you can fill the world with hope for a better tomorrow."
Your Support Helps Meet Skyrocketing Demand
As many of us get set to prepare Thanksgiving dinner, around the world hunger is skyrocketing. The United Nations predicts that if recent trends continue, the number of people affected by hunger could surpass 840,000,000 by 2030. Your Mission & Service gifts are needed now more than ever as more and more people turn to our partners for help.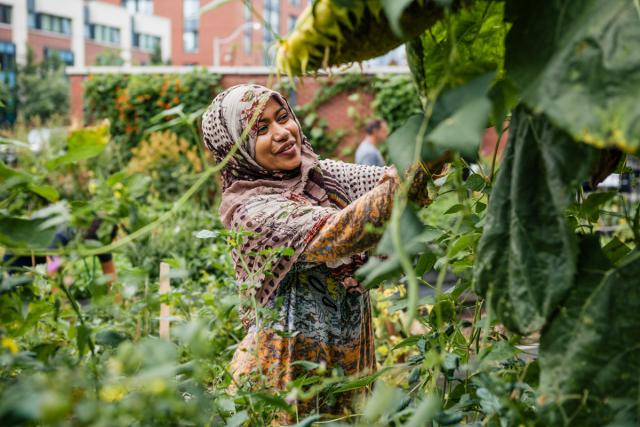 Your gifts help families grow their own nutritious food at the Fred Victor Centre.
Credit: Melanie Gordon Photography
Since the pandemic began, the Fred Victor Centre, a Mission & Service partner, has served over 180,000 free and low-cost meals to people in need—a 40% increase over previous years.
In addition to providing vital food services, shelter, counselling, and job training to support people living in poverty and experiencing homelessness, Fred Victor runs over 240 gardens where local community members garden together.
"The pandemic has pushed more people into poverty. More people are experiencing food insecurity and hunger. That is why we see these gardens as more than just plots of land with plants growing in them. For every harvest that makes its way onto plates and into bellies, and for every resident who feels empowered by their surroundings, these gardens represent our vision for healthy and thriving communities," says Keith Hambly, Fred Victor's CEO.
The gardening project is so impressive that we are featuring it in the Your Generosity Matters 2022 video and feature series set to be released on January 1. We look forward to giving you a first-hand look at how your gifts are changing lives.
Thank you for your faithful support in this critical time.
Stepping Up to Help
When the pandemic began to ramp up last year, Grant McKenzie, the Communications Director at Our Place Society—a Mission & Service partner—told us that one of the questions street-involved guests are often asked is "Where will I eat?"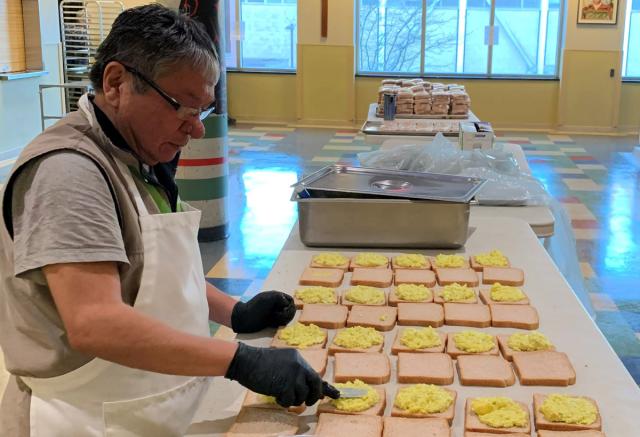 At Our Place Society, bread is broken and shared thanks to supporters like you.
Credit: Our Place Society
No one asks that question anymore. "The reason for that is simple. Our Place has never stopped providing three meals per day. And as this pandemic continues, we endeavour to make more food options available. Due to social distancing, our kitchen staff need to think more creatively as they plan one-bowl meals that can be safely handed out at our front gates. We are also busy providing water, tea, coffee and milk," he adds.
That doesn't mean there is no stress. The fentanyl crisis, overdoses, magnified social isolation, and mounting stress and anxiety as the pandemic continues take a heavy toll. Still, guests have reassurance that Our Place will continue to offer three square meals a day, whether indoors or out.
"In this strange and difficult time, my heart breaks with sorrow at the vulnerable people struggling to survive with yet another obstacle in their path, but my heart also swells with pride at the people who are stepping up to help," he says. Thank you!
Your Support Is There When Disaster Strikes
In 2019/2020, multiple disasters struck the Philippines, including a series of earthquakes, two typhoons, and a volcanic eruption. Your gifts through Mission & Service, along with ACT Alliance partners, were there to help. Here are the number of people impacted:
8,479 received nutritious food.
8,666 benefited from hygiene/sanitation kits.
3,529 benefited from seeds and farming implements.
187 now have animals to help them farm.
66 households can now access clean water.
Dignity Is on the Menu
Most of us appreciate a well-dressed table and can afford to go out for dinner from time to time. Our daily experience doesn't involve standing in line for every single meal with a tray in hand.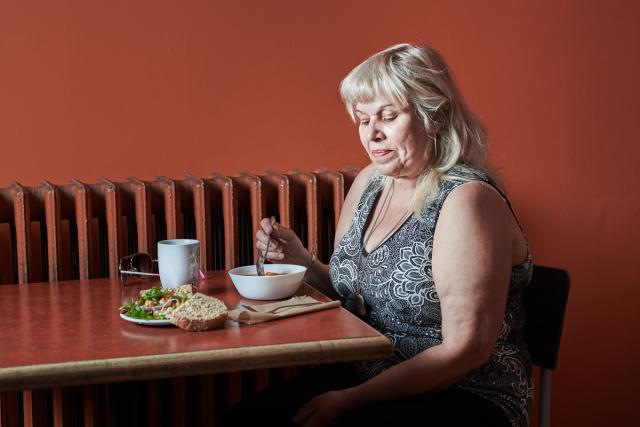 Rose enjoys a warm, nutritious meal at Centre 507.
That's why special dinners like Café Cinq-Zéro-Sept that Ottawa-based Mission & Service partner Centre 507 hosts are so important. Several times a year, the adult drop-in centre sets up a small room for a special fine-dining meal with gourmet food, decorations, and candlelight. For just two dollars, participants have their choice of meal accompanied by full service and great company.
"We realized that people in our community struggling with poverty had to wait in line a long time for a meal. When they were served, they weren't given any choice and felt pressured to leave so that the next person could be served. That's why we started Café Cinq-Zéro-Sept," says Richard LeBlanc, Centre 507's Executive Director. "We saw such a change in how people felt about themselves after experiencing this kind of a meal that our ultimate goal is that this dining experience becomes the norm rather than the exception."
While COVID-19 has been challenging, it has also helped the drop-in take an important step toward achieving their goal. "One of the great things that happened is that when COVID hit, we had to start a system where everyone sat down and was served," says LeBlanc.
Centre 507 now serves 25 people at sit-down meals and provides 150 people with meals to go each day. The café has incorporated a training program where participants learn to be servers, too. "We are taking the next step toward achieving our goal. We aren't going back to line-ups after the pandemic," vows LeBlanc.
Your generosity through Mission & Service helps restore dignity. Thank you for helping create a world where there isn't just enough food to go around, but it is shared with dignity, too.
Three Ways to Make a Gift
Call 1-800-268-3781 ext. 2738
Mail a cheque:
The United Church of Canada
3250 Bloor St. West, Suite 200
Toronto ON M8X 2Y4
Questions? Feedback? Let's talk. Give us a call or drop us a line at ms@united-church.ca . Follow us on Facebook.
The General Council Office of The United Church of Canada complies with the Canadian Council for International Cooperation Code of Ethics. The United Church is the first denomination in Canada to sign the United Nations' Principles of Responsible Investment. Charity number: 10810-2435-RR0003
Downloads