Find or host an online service, tips on technology and copyright, online communion and offering, links to prayers, and more.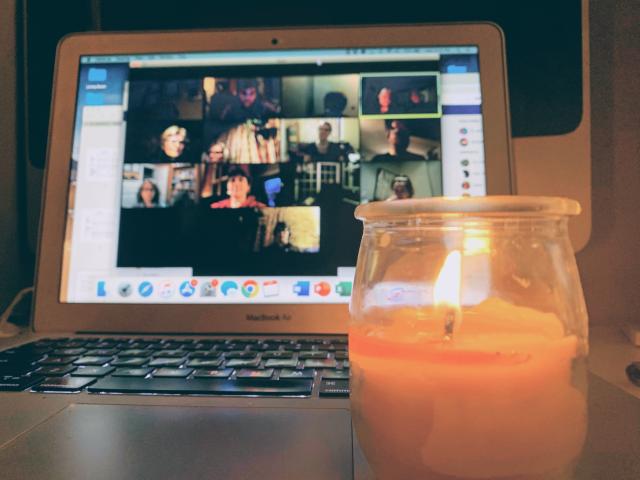 An online meeting of St. Matthew's United Church, Toronto
Credit: Lauren Hodgson
With church buildings closed during the pandemic, many communities of faith within The United Church of Canada are sharing worship services online. Online worship offers new ways to offer ministry and stay connected to each in this challenging time. We invite your community of faith to explore online worship and offer some resources to help make that possible.
Find an Online Worship Service
Communities of faith across the country are live-streaming Sunday worship services or sharing pre-recorded online worship service during the COVID-19 pandemic. See our interactive worship map to find one in your local area or join one in another part of Canada. You are also encouraged to add a link to your own worship livestream through the map.
Broadview Magazine (formerly The United Church Observer) also offers a list of United Church communities of faith with online worship services.
Hosting Online Worship
Many resources are available to help communities of faith offer online worship. The Worship Resources section offers liturgies that can be adapted for online use; the latest prayers are also posted online. Check back for new content often—the United Church frequently adds new worship resources for the lectionary year, special Sundays, and themes.
Gathering: Resources for Worship Planners, published four times a year, is a worship planning magazine for ministers and lay leaders, music directors, and United Church worship committees. Individual copies and subscriptions are available through UCRD Store.
United in Learning is offering a series of webinars for ministry leaders on various pandemic-related issues. These webinars share helpful tips and best practices for presenting online worship, best practices for hybrid worship, as well as insights from those in ministry across the country who are discovering new ways to share the journey of faith online during COVID-19. Recordings of previous programs are also available.
Recordings of webinars that deal with other aspects of congregational life during COVID-19 (such as congregational finances, ADP, ministry for children and youth) are also available from United in Learning.
Using Technology
There are a number of different technologies that can be used to share online worship services. Communities of faith are using Facebook Live, Zoom, YouTube, and other platforms to stream their services. Here is a selection of the many resources to help you manage the technology needed to share online worship.
Information on Copyright
If you will be live-streaming your worship service, make sure the music, lyrics, arrangements, liturgies, scripture readings, and other readings are either all in the public domain (see downloads below) or you have cleared them through the copyright owner. For more details, see the United Church's Copyright Guide for Congregations under Downloads, below.
Be aware there is no universal licensing agency covers all of the items you want to use. The music agency LicenSing has merged with One Licence, so most LicenSing music is now in the One License collection. You can confirm whether a hymn is covered by either One License or CCLI by searching for the copyright owner or hymn title on each of their online database sites.
If you are playing music from a music streaming service, check that you have a public performance licence for the piece. Details will be on the music distributor's website.
Please e-mail copyright@united-church.ca for other copyright inquiries regarding Voices United or More Voices.
Prayers
Prayers related to COVID-19 can be found on our Prayers page. The World Council of Churches has also collected prayers from around the globe for use during the pandemic.
To commemorate a year since the World Health Organization declared the pandemic, the World Council of Churches has created the downloadable book Voices of Lament, Hope, and Courage: A Week of Prayer in the Time of the COVID-19 Pandemic. This resource is designed for use by individuals and congregations, and for the pastoral accompaniment of people directly affected in different ways by the pandemic. 
Online Communion
Sharing in the sacrament of communion online is permissible in The United Church of Canada. The Theology and Inter-Church Inter-Faith Committee studied this matter several years ago and specifically named "online sharing of worship" as an example of a time when online communion could be appropriate (GCE Workbook, March 21, 2015, pp. 169‒173).  A more recent statement is available under Downloads, below.
Offering
Members can continue to give to their local faith communities by pre-authorized remittance (PAR), sending postdated cheques, or e-transfers. You might also suggest your members give through Canada Helps, which offers online giving. Your congregation should already be listed on Canada Helps. For more information on these ways of giving, visit Congregational Finances and COVID-19.
Individual donations to Mission & Service can continue to be made online. New stories of how Mission & Service partners in Canada and around the world are responding to COVID-19 in their communities are available in Stories of Our Faith.
Offline Worship and Pastoral Care
If members of your community of faith have limited or no internet access, you may wish to consider these ideas:
Leaders can post the text of the sermon on their website or Facebook or e-mail it to members.
If you have the capacity to host a conference call, you can share a simple call with folks on Sunday morning.
A recorded message can be sent from the pastor via e-mail, text, and the usual online communications methods.
In addition to worshipping together online, congregational leaders should consider scheduling a separate time to check in regarding pastoral care needs that are NOT worship. A phone tree is one way to check in with folks on a regular basis.
Downloads