​​​​​​​Thea Sheridan-Jonah calls on us to change the narrative and listen to the unique experience of youth during this federal election.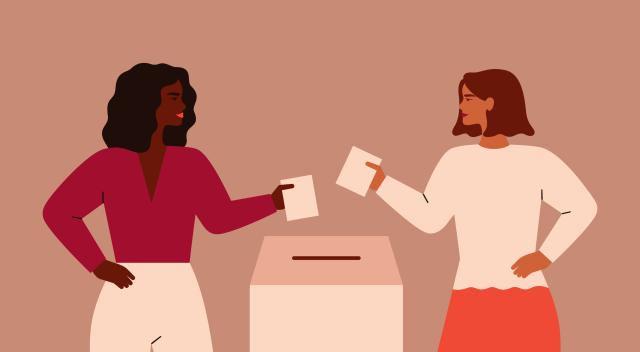 Credit: © Ponomariova_Maria / iStock.com
Published On: August 23, 2021
This blog post is part of the election resources The United Church of Canada offers people who want to engage candidates in the upcoming election. Issues close to the heart of the church—Anti-racism, Guaranteed Livable Income, Indigenous Justice, and Vaccine Equity are featured as core resources on our Faith and Politics page. Resources also offer helpful hints on how people can ask questions at virtual all-candidate meetings, how to organize an all-candidates meeting, and political activity guidelines for churches.
Turning 18 in Canada is weird, in most cases you have legally had the opportunity to drive for two years, you cannot legally drink alcohol or buy cannabis, except in Quebec, but you can buy a lottery ticket, oh and vote. Eighteen feels simultaneously too early and too late to let people vote, if we are trusted behind the wheel at 16, if we can get jobs and pay taxes at typically 14, what is so special about turning 18?
I graduated high school about two months ago, in a discussion in my grade 12 law class we had a guest speaker who brought up the debate around lowering voting age to 16. For most of us, 17 or 18, on the cusp of or preparing to vote in the next election, our conversation was deep and meaningful. As young people who had never voted, we talked about our fears and worries about voting. Although everyone in the class had varying opinions on lowering the voting age, we all had an option — an option that we can, but many will not, vote in the upcoming election. Therefore the question is, how do we show young people that their voices matter? How do we make voting accessible to all, especially youth?  
As young people our voices are often devalued or tokenized. When a youth voice is sought out it is seen as the youth perspective, despite being only a perspective. Moreover, while youth perspective is sought, we are often left out of decision making, given restricted platforms because "we don't know enough," or "we just need more experience." At 14 I got my first job as a swimming coach, so I paid income tax for the first time. At 16 I got my G1 licence, and the same year I went to my first "real" protest. At 17, I went into my last year of high school, applied for universities, and engaged more in political and social justice movements. Although this was my specific circumstance, by 18 youth like myself have been a part of the economy, engaged in politics, and followed the law, much like adult voters. Yet our voices and experiences are devalued due to our age.
As we prepare for a federal election, I call on you to change the narrative. Instead of telling youth they do not have enough experience, ask them about their experience, discover their passions, share your experience, and ask them the questions you wish someone had asked you. Just because we have "less experience" does not invalidate our experience, it is simply different.  
Democracy thrives on diversity, we need voters with varying experiences, we need politicians and leaders who represent more than one demographic, this comes in part from youth voices. Like any demographic, life experience will change how you vote. Instead of weaponizing this, see it as a necessary part of democracy. Young people might care more about education because we are in it, we may care about different social issues because we have been affected differently, we might care about minimum wage because our jobs are disproportionately minimum wage, many care more about climate change because we fear for our futures. All these perspectives come from our varying lives, they come from our experiences.
Support young people in their political ventures and voting, because like all of us, youth bring a necessary perspective and voice. At 18, 19, 20 your perspective on life is obviously different than the perspective of someone who is 40, 50, 60. This is a gift.
Our society relies on different perspectives to grow, develop, and change, yet we devalue certain voices because they have lived less. Youth perspectives are not invalid, they are invalidated. Your voice has power. This election season use your voice, support youth in preparing to vote and getting involved in politics because their voice is as important as yours.
No matter how accessible it has been made to you, we each have a voice, we each have a platform, we each have a vote: it is up to you how you use them. The only expectation is that you recognize your voice and discover how best to use it. 
— Thea Sheridan-Jonah uses she/her pronouns, is 18 years old and working as the Youth Social Justice Animator Intern at the General Council Office. Her home church is St. Paul's United Church in Oakville, Ont. She has been part of the Horseshoe Falls Regional Executive, but for university she is moving to Vancouver and hoping to continue her involvement in the United Church there.
Making voting more accessible:
More voices about the importance of voting:
The views contained within these blogs are personal and do not necessarily reflect those of The United Church of Canada.