The program's growth shows there is an appetite across the church to experiment with new forms of worship and ministry.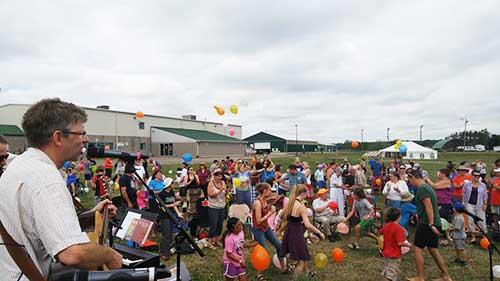 Credit: facebook.com/skylightfestival
Published On: July 18, 2017
One year ago, Embracing the Spirit was officially launched at the 2016 Skylight Festival. Since then, more than 180 initiatives across Canada have received a total of $581,470 funding, with grant sizes ranging from $500 to $27,000. This funding allows congregations to try new and innovative forms of ministry. These efforts are not just gimmicks or one-time experiments — they are real and tangible new ways of "being church."
Rob Dalgleish, Executive Director of EDGE, says the growth of Embracing the Spirit demonstrates that there is an appetite across the church to experiment with new forms of worship and ministry.
As Dalgleish notes: "People sometimes ask me, 'What do art shows or cooking classes have to do with church?' I tell them it's about loving the neighbour and the neighbourhood. Changing lives for the better, whether economically, socially, environmentally, or through more traditional spiritual practices, is an act of love. It's an expression of the abundant life that was Jesus' purpose. Through our own deepening discipleship it becomes an opportunity to introduce people to who Jesus is and The Way he invites us to walk."
Embracing the Spirit includes a learning network, with more than 300 people receiving guidance from more than 80 mentors. These mentors include retired professionals who are willing to lend their skills and expertise to help others. Another part of the program is the Social Innovation Challenge, where participants can develop a concept, discover new partners, and compete for start-up funding. There have been 11 Social Innovation Challenges so far, which bring a spiritual bottom line to entrepreneurship. Here are some examples of groups that have taken part in past Social Innovation Challenges, plus a list of upcoming challenges.
These efforts to connect to younger Canadians are being noticed. A recent article in The Globe and Mail, titled "United Church Embrace Startups as it Updates its Social Mission to Engage Millennials, focused on St. Andrew's United Church in Markham, Ontario, which has opened its doors to 12 small business owners and social entrepreneurs.
In addition an article about how the church is supporting start-ups was put on Forbe's "must read" list.
In 2017, funding for Embracing the Spirit is set at $750,000. Next year, its budget is expected to be in excess of $1 million. To keep abreast of the growth of Embracing the Spirit, anyone can subscribe to the Embracing the Spirit online newsletter. Or to read about new approaches to ministry that the program supports, go to the Round the Table blog and click the Embracing the Spirit tag at the top.
—Paul Russell is Communications Coordinator with the Office of the Moderator and General Secretary.
New and diverse approaches to ministry are constantly cropping up across The United Church of Canada, and Embracing the Spirit wants to hear about them. If you are involved with a group that has found an innovative way to approach church, let us know, by filling in the Tell Us Your Story form, found at the bottom of the Spur Innovation page.