Editor Alydia Smith introduces a new Lenten study on the spiritual dilemmas Christians face when presented with less-than-perfect options.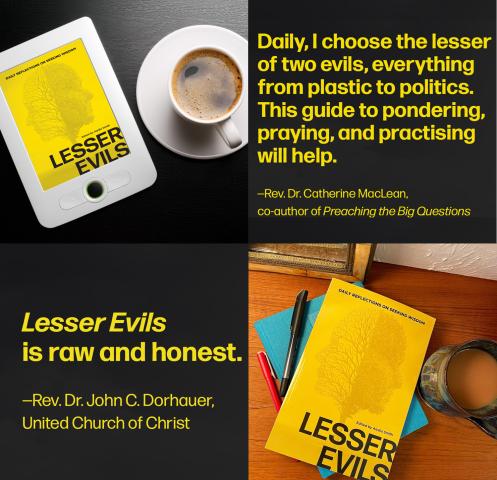 Credit: The United Church of Canada
Published On: February 3, 2022
An excerpt from Lesser Evils: Daily Reflections on Seeking Wisdom, the United Church's new Lenten devotional.
At 19 I was awarded a substantial scholarship from a very rich alumna of my university. There was no question in my mind that it was the right decision to accept the scholarship. I exceeded all of the qualifications, worked hard on the application, and truly needed the financial assistance (a music degree is very expensive).
During the selection process nobody said anything discriminatory or behaved in a way that was untoward, but my gut felt funny. I told myself it was nerves.
Months later, after I had gratefully used all of the scholarship money to buy my beloved horn and other required school supplies, I was "invited" to a fancy sit-down dinner at the mini-mansion of the benefactor. The thing I remember most about that dinner was how crappy it made me feel, like I was a tool to affirm that this wealthy White family was kind, benevolent, and not racist. If I had known the cost—that I was going to be a personified act of charity—I would have gladly taken another job to cover my additional school costs. I felt sick with the realization that likely many beneficiaries over the years had not had the choice to say no.
I spoke with a friend about it afterwards, and she comforted me by affirming that it was a necessary evil, which implied for me a lesser evil.
It's such a peculiar statement, choosing the lesser of two evils, because no matter how you spin it you are still choosing evil. Should we ever feel comforted or justified in choosing evil? I hope not. After all, we are told to "always seek to do good to one another and to all" (1 Thessalonians 5:15).
Maybe the comfort in the saying "choosing the lesser of two evils" comes from acknowledging the ubiquitous nature of evil. Even the most altruistic of actions, like awarding scholarships to deserving students, can make the recipients feel patronized and lesser than. The COVID-19 pandemic confirmed that we live in a complicated and broken world, and we are all implicated in that brokenness. Regardless of how righteous we might feel about our decisions, we choose evils every day, hoping that we are choosing the lesser ones.
Lesser Evils is a humble attempt to explore these everyday dilemmas of seeking the good while choosing the lesser evil from a Christian perspective.
We asked faithful followers of Jesus to reflect on how their faith informs their daily choices, from "Do I take this parking space?" to "Do I wear this mask?" to "Do I choose to forgive you?"
I am grateful for the many people who have entrusted their reflections, stories, skills, and gifts to create this collection of insightful devotions. I pray that Lesser Evils: Daily Reflections on Seeking Wisdom will be a challenging comfort and aid to you as we faithfully attempt to do and seek good in our actions and choices.
— Alydia Smith is the editor of Lesser Evils, and a Network Coordinator of the Identity and Mission Unit.
Lesser Evils: Daily Reflections on Seeking Wisdom is available in print or as an e-book from the United Church Bookstore. offers short mediations for each day of Lent, written by a variety of authors, faith leaders, and activists. The devotional also includes prayers, questions for groups or individuals, a study guide, and worship suggestions. The contributors to the book are:
Basil E. Coward is a preacher, poet-writer, and psychotherapist who is passionate about the gospel's invitation to transformational living, really a different way for Christians to be in this world. For the past eight years, Basil has been serving in ministry at Victoria Square United Church in Markham, Ontario.
Jennifer Henry is an activist theologian. She served for close to 30 years in ecumenical social justice ministry, most recently as the Executive Director of KAIROS. Jennifer is a queer cisgendered settler woman who lives as a guest on lands covered by the Dish with One Spoon Wampum Belt Covenant.
Andrew Hyde is a Designated Lay Minister in The United Church of Canada, currently serving as the Ecumenical Campus Minister at the University of Guelph. He enjoys hiking, cooking, watching hockey, and being part of a vibrant campus community. To view more of Andrew's work around vocational discernment for young adults, visit discoverment.org.
The Rev. Dr. Cheryl A. Lindsay serves as the Sermon Seeds Writer and Editor of the United Church of Christ. Through this work, Cheryl provides weekly theological reflections and Bible studies for the denomination and Christian faith communities around the world. In addition, Cheryl is a local church pastor and worship scholar-practitioner. Cheryl A. Lindsay Ministries specializes in developing worship planning communities, revitalizing liturgy and worship design, infusing worship with the creative arts, and coaching worship leaders.
Julie McGonegal is a writer living in Barrie, Ontario, on the traditional territory of the Haudenosaunee and Anishnaabeg peoples. She served as editor of Faith on the Move: Daily Reflections on Hope and Change (United Church Publishing House, 2020). Her work, which explores the intersection of social justice and spirituality, has recently appeared in magazines like Broadview, Literary Review of Canada, and Sojourners. Julie enjoys reading, rambles in the woods, canoeing, and community-based advocacy.
The Rev. Debbie McMillan acknowledges that she was born and raised as a biracial settler on the traditional territory of the Haudenosaunee and Anishnaabeg nations, within the lands protected by the Dish with One Spoon Wampum agreement and the Between the Lakes Treaty. Debbie was taught to call her hometown Hamilton, Ontario. As the child of a single mother and as a racialized woman, Debbie has spent her life dealing with systemic racism and economic injustice. Debbie graduated from Emmanuel College and was ordained in the United Church in 2008. She moved to Barrie, Ontario, to accept her first call. She returned to Hamilton in 2016 to care for her terminally ill mum, who passed away in 2018. Debbie has won awards for her writing. She is proud to serve as the full-time minister for St. Andrew's United Church in Hamilton. Debbie and her partner John have been together for 16 years. They both enjoy Star Wars, the Marvel Universe, and leisurely hikes.
Alydia Smith is a worship leader, educator, caregiver, mother, and Jesusfollower who works at the General Council Office of The United Church of Canada supporting worship and faith formation ministries. She is a tuba player who holds a bachelor's in music from Western University, a master's in divinity from the Atlantic School of Theology, and a doctorate in worship from Drew University under the mentorship of Donald Hilliard and Leonard Sweet. Alydia loves learning and crafting and is always looking for new opportunities to grow and create.
Nathan Wright is an ordained minister in The United Church of Canada and has served congregations in New York, British Columbia, and New Brunswick. He has also spent time in South America working with a partner church as overseas personnel. Beyond the congregation, he regularly teaches ethics at the university level and has been an ethics consultant for provincial health authorities. Nathan enjoys exploring the connections between faith and decision-making in daily life.
The views contained within these blogs are personal and do not necessarily reflect those of The United Church of Canada.