For Black History Month, Albertine Chokoté Naoué asks what each of us can do to deconstruct thoughts and behaviours that are harmful.
Credit: JESUS MAFA / Art in the Christian Tradition, Vanderbilt Divinity Library.
Published On: February 21, 2022
In 1926, Carter G. Woodson, an African-American historian recently graduated from Harvard University, proposed that time be set aside each year to honour the achievements of African Americans and create greater awareness of Black history in the United States. His initiative led to the adoption of Negro History Week. Canada later followed suit. It was not until 1995 that the House of Commons officially recognized February as Black History Month. Full parliamentary recognition came when the Senate approved a similar motion in 2008. Arriving more than 80 years after the original idea, this culmination was the result of determined initiatives by Black men within the two parliamentary bodies. What significance does this commemoration hold for us today?
As we reflect on the contribution of people of African descent, a writer of the gospel calls out to us.
Jesus has returned to Capernaum. When people hear of this, crowds gather. While he is teaching, a paralyzed man is lowered on a stretcher through the roof to the very feet of Jesus. The four men who did this were hoping that Jesus would relieve the man's suffering. So many thronged the house that opening the roof was their only hope. Impressed by the men's ingenuity in circumventing the crowds, Jesus immediately acknowledged their faith and forgave the man for his sins. Teachers of the Law saw this as blasphemy. Jesus looked on them with compassion, wondering at the reason for their reaction. He attempted to lead them out of their ignorance.
Listen carefully to Jesus: If you think that my forgiving sins is blasphemous, the same applies to enabling this man to rise up and walk, as his friends were hoping I would do. Has God not shown himself to be the One Who Heals? Both forms of salvation come from the same source. This is the truth: As the one who all seek for healing, I am the Son of God. Know then, that on earth I have the authority to forgive sins, just as I have the authority to heal paralysis. And this I shall do despite your misconceptions. Your ways have resulted in a lack of awareness and made you indifferent to suffering.
And so, Jesus approved of and encouraged this initiative. What good news for us! The Lord approves of people who show initiative and overcome every obstacle in liberating people who are paralyzed by situations that prevent them from developing fully. The Lord also guides them toward strategies to prevail.
How encouraging this is in the face of various forms of racist practices that paralyze the discriminated in their bodies and in their souls!
The tone used to correct what the specialists of the law were thinking is significant. They were the keepers of religious heritage. Delicately but firmly, Jesus discredits the "truth" underpinning their attitude toward paralyses found in people all around them.
When hope for healing meets with indifference, or worse, insensitivity rooted in misplaced perspectives that have evolved over centuries, a process of raising awareness and informing is the only response. Following the example of Jesus, Christian leaders should take actions to raise awareness and provide education geared to the type of resistance met within specific institutions. Those who practise racial profiling have developed habits whose expression differs from that of job recruiters who have difficulty letting go of the belief that "reason is Hellenic" (Léopold Sédar Senghor).
The Gospel of Mark provides encouragement in this struggle: You are not alone! The work is long and hard, but the seed will grow and produce the beautiful fruit of empathy, compassion, and acceptance, which are the cornerstones of inclusivity.
In the meantime, however, synergy is required. Educational actions must also target the subjects of discrimination, who have built negative reflexes that do not serve them well. Many members of Afro-descendant communities are paralyzed and their paralysis has a name: inferiority complex. It can be described as a lack of confidence. At times, it takes the form of ignorance and being defensive. A young Black man, for example, who is unaware of his rights has interiorized a sense that "whatever happens, this police officer is going to give me a ticket," and so flees when the officer calls out to him. As a result, he is pursued for the actual felony of fleeing the scene. The original reason the officer stopped him may very well be forgotten! Was there actually a legitimate reason? Or what kind of justice and changes within police forces (and ourselves) are needed so that a young man who is tempted to flee can silence the voice within telling him to run, given previous cases of abuse (such as Mamadi Camara endured), and have the confidence to risk speaking to the officer without fear? It is clear that we are dealing with two very real but different needs for liberation.
If we are to address the phenomena of racism and discrimination globally, it will be necessary to deconstruct every misperception starting with dismantling paralyzing thoughts that control these automatic reactions in order to implement actions that inform and encourage personal development in rebuilding inner lives.
At the end of the day, engaged reflection is needed. As a disciple of Christ striving to follow in his steps, what should my contribution be to help deconstruct erroneous thoughts, misperceptions, prejudice, and other realities that produce and maintain behaviours that are harmful to one's own self or others? What can I bring to rebuilding the inner life of someone dealing with a paralysis? Let us be courageous and arm ourselves with determination, valour and faith in the one who supports community mobilization so that fulfilled lives may bloom forth.
— Albertine Chokoté Naoué is a trained (PhD) lay biblical theologian. She is a member of the governing board of the La Table des ministères en français and Treasurer of the Executive Office. Originally from Cameroon, Albertine lives in Toronto, where she is the founder and director of the non-profit organization Connexion Verte. This NPO works to promote the most equitable inclusion possible into their new living environment for members of Black Francophone communities of African descent already living in Ontario or new to the province.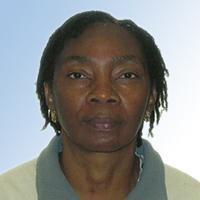 Credit: Albertine Chokoté Naoué
The views contained within these blogs are personal and do not necessarily reflect those of The United Church of Canada.