Rev. Dr. Japhet Ndhlovu writes about the tragic death of a friend and so many others due to COVID-19 and calls for vaccine equity.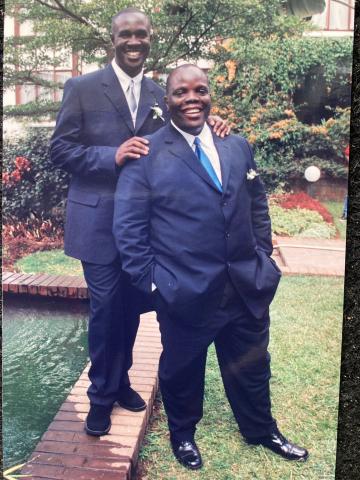 Japhet (left) and Reuben (right) together in Zambia.
Credit: Courtesy of Japhet Ndhlovu.
Published On: October 28, 2021
When the first wave of COVID-19 hit the world, the death and infection statistics were just that for me—statistics. The closest that COVID-19 came to affecting me emotionally was when a senior home in our neighborhood lost 42 residents. I did not know any of the deceased. However, I felt impacted by their deaths. I felt sad for their loved ones, who had had no chance to say goodbye to them.
In the third wave, COVID-19 became very personal to me. Eighteen people I knew from a congregation I once pastored in Zambia succumbed to the virus and died within a period of about three weeks. I called the minister to find out how he was coping with so many funerals in his community of faith. Clearly, he was tired and heavily laden. Some of the church members who had died were couples and, in some cases, included one or two close relatives who were caring for them during their illness. It has also not been easy for pastors in Zimbabwe, a neighbor to Zambia. Several ministers from the member churches of the Zimbabwe Council of Churches, a Mission & Service partner of The United Church of Canada, caught the virus, most likely while conducting funerals of their beloved members, and they too died. Sometimes they lacked basic protective equipment.
During that time, every day, for about two weeks, I received death notices of people I knew. I once shared in denominational or ecumenical ministry with these individuals. COVID-19 had completely stopped being "only statistics" for me. More than 20 church ministers and priests from across denominational boundaries also died within a period of about two weeks. It started weighing heavily on me; I knew each of those people who had died.
The pandemic hit even closer for me when my best friend Rev. Reuben Daka succumbed to the virus. Reuben was an ordained minister serving with the Uniting Presbyterian Church in Southern Africa. Our parents were both copper miners in Zambia. We were both first-born sons in our families. We both have young brothers and sisters who look up to us like their parents.
From the moment I met Reuben, we clicked and became bosom brothers, covenant brothers indeed. In so many ways, for years, our lives have been like that of the biblical Jonathan and David. We have walked with each other in our lives. Even when I have been away from the motherland, we endeavored to stay in touch with each other.
When we met in person, we sometimes arranged to spend nights in the same room, knowing we would talk the night through. We would talk about everything, our ministries, our fears, our doubts, our joys, our marriages, our children, our education, money matters, our temptations, books, articles, politics, and the church which ordained us (the Reformed Church in Zambia) and other grown-up stuff.
At one time Reuben served the Reformed Church in Zambia as General Secretary, and I was the National Moderator. Oh my goodness, the things we saw, heard, and experienced.
Reuben, and the many other people I knew, died from COVID-19 related complications. Some of them needed oxygen and the hospitals had run out of oxygen. Some of them were left to die alone on their hospital beds because the nurses were too overwhelmed, and family members were not allowed to care for their own in their last minutes on Earth.
Some people, like my friend Reuben, most likely got the virus while conducting pastoral care or conducting funerals of people who had succumbed to the virus. None of those friends and colleagues I knew had received a vaccine. The wealthy countries were still discussing how they could share excess vaccines to countries like Zambia. Sadly these preventable tragedies are happening around the globe, particularly to the unvaccinated in many countries of the global majority.
Vaccines save lives. The time for vaccine equity is now. Rev Dr. Martin Luther King, Jr. maintained that "It is not possible to be in favor of justice for some people and not be in favor of justice for all people."
— Rev. Dr. Japhet Ndhlovu serves as Executive Minister for the Church in Mission Unit of the General Council Office.
Canada, like many Western countries, has purchased more than enough vaccines and has vaccinated the majority of its citizens. This is not the reality for many countries in the global majority, where only 2.0 percent of the population (as of September 21, 2021) has been vaccinated against the disease and likely won't be vaccinated until 2023/2024. Global solidarity and action are needed to address the vaccine access gap between rich countries and lower-income countries. Take action by donating a vaccine and calling for vaccine access for all.
A special All Saints Memorial Service will be held on November 1, 2021 at 12:00 p.m. EDT with Moderator Richard Bott to remember all those including Rev. Reuben Daka who we have lost through the pandemic. Please plan to join.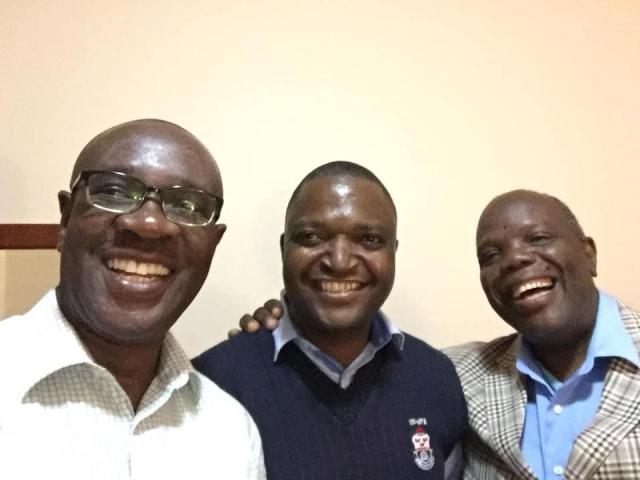 Credit: Courtesy of Japhet Ndhlovu.
The views contained within these blogs are personal and do not necessarily reflect those of The United Church of Canada.