May your Advent pilgrim journey be filled with love.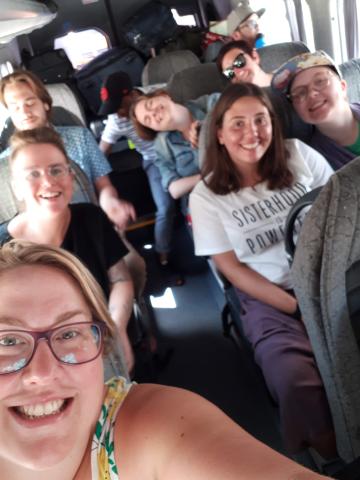 The young adult pilgrims take a selfie together on a bus. 
Credit: Shanna Bernier
Published On: December 17, 2020
Shanna Bernier shares a series of Advent reflections based on the experience of visiting Palestine-Israel on a young adult pilgrimage in August 2019. Eleven young adults and two facilitators travelled to Bethlehem to connect with their Christian roots, meet with United Church partners, and hear stories from Palestinians and Israelis about why this land is so sacred. Shanna's wish is for these reflections to inspire readers to explore the stories of Palestinian and Israeli people and to connect to the divine humanity in each story.  
Love 
Before I set off for Israel-Palestine with my 12 companions, we all met at the University of Toronto campus at the Multi-Faith Centre. We were strangers playing "People Bingo" one moment, and friends the next. The 48 or so hours we spent together in Toronto helped forge a bond of love between us, so that when we all gathering in the Toronto airport a couple of months later we began our journey to Bethlehem as a family of pilgrims.  
Being on a pilgrimage is a beautiful experience, which many have done alone. I think solo journeys can be very deep and moving, but the fact that we were traveling in a group was a big part of the appeal for me. I felt so safe and surrounded by love as we travelled across the hillsides and valleys together on our little mini-bus. We supported each other through homesickness and culture shock and being not okay with some of the harrowing stories we heard. We shared food, scarves, and Pepto-Bismol. We lovingly cared for our pilgrim siblings through illness and scraped knees. We danced, sang together, and held each other through tears. The love we developed over our brief time in a foreign land was breath taking. We walked in the footsteps of so many pilgrims before us, all together on a journey of faith and love.  
One of my fellow pilgrims Rachel, wrote these two verses to add to the beloved hymn, "The Servant Song (We Are Pilgrims)" (Voices United #595) which was a kind of unofficial theme song of our trip.  
Sibling, let me walk beside you, 
Let me help you on your way 
Have some snacks, I've packed some extras 
Hold my hand, it's going to be ok. 
Pilgrims, let us walk together 
Come back, changed, another way 
We can't solve the problems faced here 
But there's the sun, a bright new day 
Mary and Joseph's journey to Bethlehem is a journey of love. We celebrate the love of a family changing, growing, and going though a great trial together. We bask in the love of new parents in awe of the baby they have been blessed with. I am honoured that my own pilgrim's journey could be filled with love too. May you also be blessed with love on your Advent journey. 
— Shanna Bernier lives with her family in Sherbrooke QC and is Program Support Minister for Youth and Young adults in Nakonha:ka Regional Council. Her passions include children's literature and making strawberry jam.  
The views contained within these blogs are personal and do not necessarily reflect those of The United Church of Canada.