Rev. Dr. Paul Douglas Walfall reflects on the truths unmasked by 2020 and hopes what we have seen will bring change in 2021.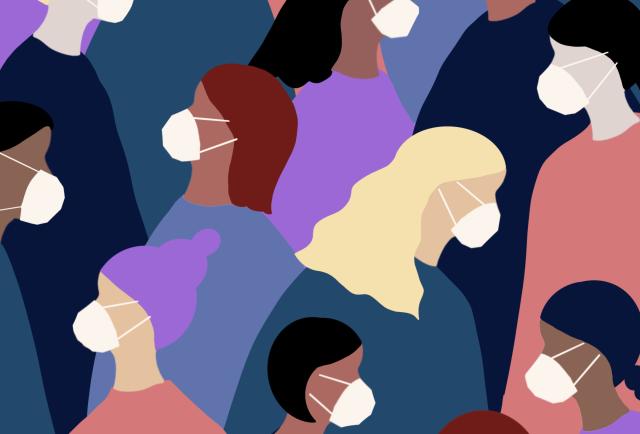 Credit: iStock
Published On: January 7, 2021
I recently read a Facebook post from a colleague in which he stated his opposition to the description of "unprecedented" used for the year 2020. I agree with much of what he said, if for no other reason than the description has been overused and, for the sake of effective variety in communication, there must be other words which we can use. Yet to be sure, this year will be long remembered for many things, and sadly some of those things are not positive.
For me I will describe 2020 as the year that "unmasked issues while making it necessary for us to wear masks." There is an implicit contradiction as I reflect on this year, a contradiction that offers us lessons to learn if we are willing to learn them. The writer of the letter of James offers to his readers a similar challenge, "But be doers of the word, and not merely hearers who deceive themselves. For if any are hearers of the word and not doers, they are like those who look at themselves in a mirror; for they look at themselves and, ongoing away, immediately forget what they were like." (James 1: 22-24, NRSV). My fear is that 2020 will be remembered primarily about the negatives of the COVID-19 pandemic and we will forget the many necessary lessons that were offered through the year. As members of the church, we are called to be doers of the word, and so live the lessons learned.
I described 2020 as having an implicit contradiction. This was the year when we were required to wear masks for our health's sake. Indeed, in almost all public places wearing masks was required. Masks were required not simply for our own sake, but more so for the health and wellbeing of those around us. Even with the rolling out of the various vaccines, the requirement to wear masks will continue with us well into 2021.
At the same time 2020 unmasked several social issues. By unmask, I wish to note that these issues were always there; they were just revealed in 2020. It seemed that in some cases we lived with these issues and they seemed normative, as we tolerated them by simply saying nothing. In the interest of time let me highlight just two of these.
The first one is the care of the senior members of our society. Unfortunately, among those hardest affected by the COVID-19 virus has been the elderly and those who live in senior care facilities. The pandemic revealed several issues about the provisions society makes to care for the elderly.  In many cases, the effective care of persons has become an issue of economics and wealth. The news that has emanated from some senior care facilities has caused deep concern for many of us. What is of further concern is that these issues have existed well before 2020 began.
The concern for me is what now? Now that we know there are serious concerns about the care of our elderly, what will be done? Will it become another news item that causes outrage, so long as it makes headline news, or will it lead to changes being made? The prophetic and pastoral voice of the church cannot be caught up in the media hype about this situation. Ours must be a voice that constantly demands change until change is made. Ours must be the voice that is willing to work with government and other agencies towards the change that is needed. What has been unmasked remains unmasked, yet it is too easy, as the letter of James says, to turn away and forget what has been revealed.
The year 2020 will also be known for the outrage caused by issues of racism in our society. The death of George Floyd was among those issues which unmasked the reality of systemic racism in United States and Canada. Many were deeply outraged and demands for change arose in Canada, and elsewhere, as calls were made for anti-racism measures to be put in place. The voices were loud, the emotions poured out were real, and the discussions were meaningful.
It was interesting to hear the debate about whether there was systemic racism in Canada and in some institutions of our country. Some of our leaders were loud in their insistence that systemic racism is not part of the Canadian landscape, and others were willing to acknowledge the reality. Still, some kept silent, and their silence spoke volumes.
When the issue was headline news it was the topic of the day. Now that it is not headline news one could be fooled into believing the issues have been resolved. But they have not, and at least here in Alberta at the time of writing this, we have had three cases of racism-based violence reported by the news media. Now that this issue has been unmasked, what are we doing about it?
For institutions like The United Church of Canada, work is being done to develop an anti-racism strategy that will guide the work of the church. Yes, this is taking time, but I can assure you work is being done. But I wonder about the rest of society? I wonder too about those who vehemently deny the existence of racism in their province or institution? Will we need another major event to unmask this issue? And at what cost to human life will that unmasking involve? Here also, is it that we have forgotten what we have seen?
So, I look forward to 2021, in large part because I am eager to see what we have really learned coming out of the issues of 2020. For some 2020 may have been the "un-year." But for me, it will be the year we were required to wear masks even as several issues were unmasked. May 2021 find us being doers and not simply hearers.
—Rev. Dr. Paul Douglas Walfall is the ministry personnel in the Fort Saskatchewan Pastoral Charge in Northern Spirit Regional Council.
The views contained within these blogs are personal and do not necessarily reflect those of The United Church of Canada.