A plea for sanctuary is answered by Plymouth-Trinity United Church for the Rodriguez-Flores family, but more is needed for the journey ahead.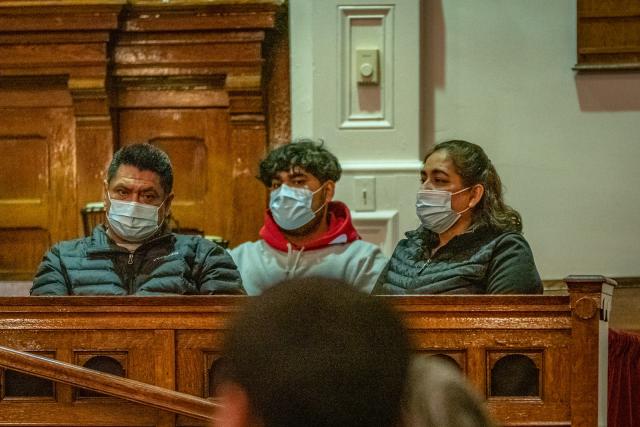 The Rodriguez-Flores Family attending a vigil last December, 2021.
Credit: Lunkenbein Photography
Published On: November 7, 2022
Advent is a time of great anticipation and a whole lot of waiting. That is what Georgina, Manuel, and Manolo have been doing for over a year. On November 8, 2021, an auspicious, autumnal Monday, the Rodriguez-Flores family moved into the chapel space at Plymouth-Trinity United Church in Sherbrooke, Quebec. This room that formally hosted intimate prayer meetings is now living quarters for a family that has been sheltering in place against the proposed deportation to their native city of Torreón, Mexico. Instead of getting on a plane, they made one final plea to a local church, seeking sanctuary from probable violence from members of powerful drug cartels and possible death. The Canadian government had just denied their appeal to the mishandled "pre-removal risk assessment" and had subsequently stayed silent on the frustrating limitations to the eligibility criteria of the Canadian refugee claimant system.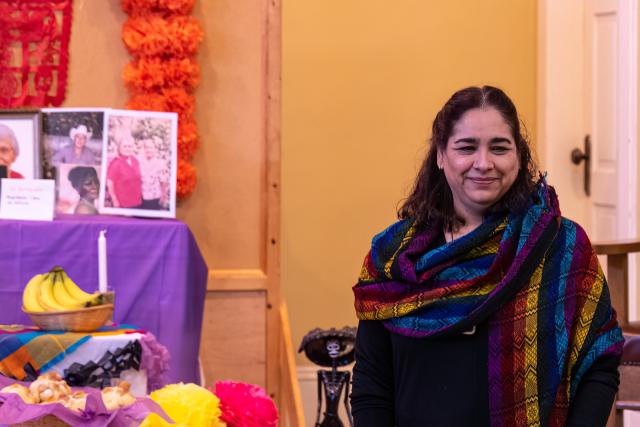 Georgina Rodriguez-Flores at a community potluck held to celebrate Dia de Muertos, October 2022.
Credit: Lunkenbein Photography
It was quite the miraculous leap of faith for my church community, whose demographics are primarily older, to say yes to this endeavour. Our culture for the past few years has been one of letting go of big exhausting projects and coming to terms with the energy levels of the community diminishing. We said yes because time was short and the sense of urgency was enormous. If we are totally honest, and given more time to think about it, we may not have been as willing. When I imagine the story of Jesus' mother, Mary, heavily pregnant and possibly in labour journeying by foot far from home, desperate for a safe, warm spot to rest and have her baby, I think of the flustered and benevolent inn-keeper to be something like our congregation. We knew others had already said no for various valid reasons. We knew we had some space but that it wasn't ideal and that we might be out of our depth in the grand scheme of things. We didn't know what the outcome would be, but we said yes anyway. I personally felt called in a way that I've never experienced before. We worked hard to make the best of it, to prepare the way. We opened the doors and vacuumed the carpet, moved the chairs, and became stakeholders in a situation that was largely out of our control. Our community mobilization and our faith-filled patience have shaped the past year in the Rodriguez-Flores family's life.
Jesus asked us to welcome the stranger. Jesus asked us to protect the innocent and defend the one who was unfairly judged. We never know where or when we will find Christ amongst us, but it is clear to me that the single most important act I have participated in as a Christian was saying yes without hesitation when this family, who were at the time strangers, asked for help. I pray daily for them to be released and to be able to go forward and bless the community with their massive gifts and creative spirit. I cannot imagine them spending another Christmas inside the walls of our church building, and so I pray that their extended season of Advent transforms into Christmas―a Christmas delivering fresh starts and miracles in humble human spaces.
If you are reading this without an addendum, that means our family remains confined within the church. You can help by participating in our letter-writing campaign, contributing to the family legal fund, or by sharing their story widely.
— Shanna Bernier is the Program Support Minister for Youth and Young Adult Ministry in Nakonha:ka Regional Council, a member of Plymouth-Trinity United Church, and a mom of two awesome kids. Shanna's passions include baking, children's literature, and getting youth excited about social justice.
The views contained within these blogs are personal and do not necessarily reflect those of The United Church of Canada.