May Mary's song turn our complacency and privilege upside down, and make possible flourishing communities that are just, open, and joyful.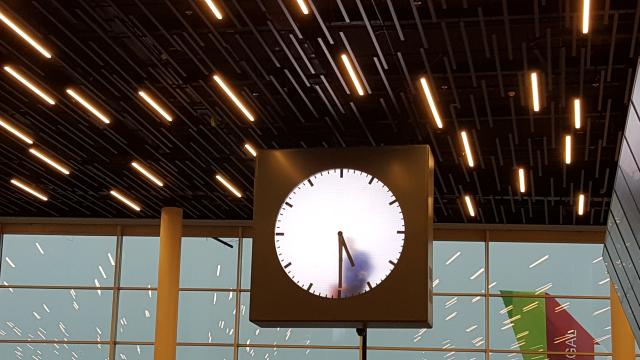 Credit: Michael Jagessar
Published On: December 22, 2021
In 1964 the then French President, flying over the Caribbean Sea on a visit to "French Caribbean colonies" described the islands as "dust specks on the sea". His comment evokes a deep-seated colonial perception of the region (and beyond), and its people. And it is not unrelated to the powerful forces that continue to exploit people, bodies, and lives for economic gain.
This deep-seated arrogance is tied up with a belief. As Caribbean writer Merle Collins aptly puts it: "God, they told me then/made me/in God's own image and likeness/almost." Many today will tell their own stories of being dehumanised. Dust-specks and unknown corners continue to be where the Divine finds home. Who would ever believe that hope was being birthed from some unknown insignificant corner? When pregnant Mary sang to the beat of the joyful kicking one within her it was all about reversals. The Divine, lover of the dead corners of the world and forgotten wretched of the Earth, is in the business of overturning injustice and surprising us in unexpected ways.
Perhaps advent liturgies should make more of Mary's song. I think, for starters, her song counters the tendency to overuse and abuse light and darkness. I cringe at the constant reminder of the dark tribes and the heathens, people from those places of total darkness in need of the shining bright Light. "The people who walked in darkness have seen a great light!" Imagine this mantra being drilled into us over generations and then try to understand how easily people of a lighter hue are privileged over those of a heavier one. But this is not all. The lyrics of some of our hymns and carols seep with imperial overtones, even when such are revised. Many have drunk of this intoxicating wine and then reasoned their God-given right to shackle, lock down, and lock out others as non-human beings.
There are many Marys, Elizabeths, and Zechariahs waiting to connect their small and forgotten stories within God's main story of reversals. Maybe yours is one of them. Look out for others—they are multiple. Inhabit them. I find these stories in unexpected and surprising places and moments: subversive laughter, small protests, singing, and unrecognised simple acts of compassion. Imagining and dreaming of reversals of all the ills that rob us of fullness is not wishful star-gazing. It is about being bold and putting the common good of our life together as priority. This is how the Divine opts to work in the "hood". Everything is subversive about God taking on human flesh, not almost, but fully.
Hoping for some exciting reversals this advent and Christmas? Well, may Mary's song break-out into our midst, shake up, and turn upside down our complacency, privilege, and gate-keeping to make possible life-flourishing communities that are just, open, and joyful.
And, as you reflect and pay attention to your immediate "world", I invite us to consider these two books: Europa 28: Writing by Women on the Future of Europe (edited by Sophie Hughes and Sarah Cleave, 2020) and Three Wise Women (by Mary Hoffman and Lynne Russell, 2002). The context of the first book may be different from yours, but the stories of dreams, reversals, and possibilities are inspiring. May they encourage our own. The second colourfully illustrated book offers a glowingly fresh retelling (or slant reversal) of the Christmas story, and how the ordinary gifts we offer can shape a whole life differently.
An unwrapping prayer:
God-who-surprises-and-disrupts, bring freshness to our thoughts and words and actions, so that we can dream new and creative possibilities, discern the challenges before us, find life-giving ways to care and embrace, and dare to take risks in the adventure of walking your way. In the name of the One overflowing with love.
—The Rev. Dr. Michael N. Jagessar is Mission Secretary - Europe and Caribbean Regions at Council for World Mission. He is based in Birmingham, UK.
The views contained within these blogs are personal and do not necessarily reflect those of The United Church of Canada.