A former Ecumenical Accompanier laments the brutality witnessed in Palestine and Israel, while celebrating brief moments of compassion.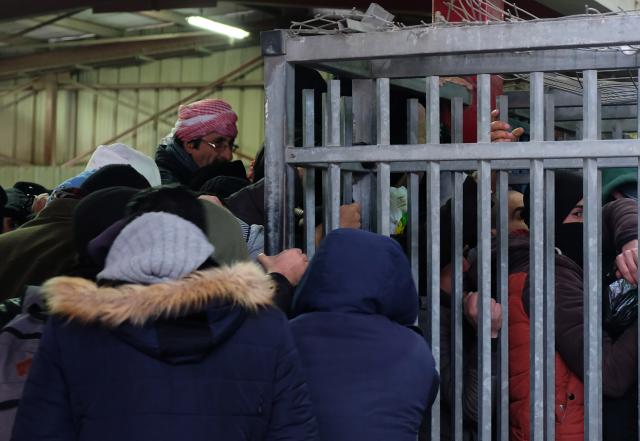 Palestinian crowds surge at the gate of the caged Qalandiya check point, Jerusalem.
Credit: EAPPI_I.S.
Published On: September 13, 2021
World Week for Peace in Palestine and Israel is September 19 to 26, 2021. Church organizations, congregations, and people of faith are encouraged to bear a common witness by participating in worship services, educational events, and acts of support in favour of peace and justice for Israelis and Palestinians. See the links for resources at the bottom of this page.
Serving as an Ecumenical Accompanier with the World Council of Churches Ecumenical Accompaniment Programme in Palestine and Israel was an experience that repeatedly broke my heart and shook me to my core, while simultaneously opening my eyes to injustice and violence in ways I could not have imagined. I came home with a heart that had been shattered time and again by repeated human suffering. Suffering experienced by people like you and I, whose greatest desire is to live their lives in peace. I remember speaking at a church a few years later, and a woman came up to me afterwards and said "You have seen so much pain." She was right. I have.
I have accompanied people immediately after their home has been demolished, their crops have been intentionally destroyed, their son has been shot by soldiers while walking home. I have provided protective presence for farmers afraid to go to their fields after having been threatened at gunpoint by their settler neighbors. I have witnessed extreme poverty and child malnutrition. Terrible sanitation. I have witnessed a system that allows abundant access to water and electricity to some, while denying it to others, based on ethnicity.
It can be hard to carry that pain — especially when you know that it continues to happen. That it not only continues, but that the violence is getting worse. That in spite of multiple violations of International Law occurring on a daily basis, politicians the world over choose to ignore what's happening. Apparently political self-preservation is more important than upholding international obligations and ending human suffering. While this is a pain that I carry, I am always aware that far more important than my pain, is the harsh reality that those who are directly affected live it out, day after day after day. Every day. 
For a while, I chalked it all of up to "systems." In this case, the "system" at fault is the 54-year ongoing military occupation of the West Bank. But an experience at the Qalandiya checkpoint showed me that the occupation is done by people. It placed me face to face with one individual's outright cruelty to a suffering stranger.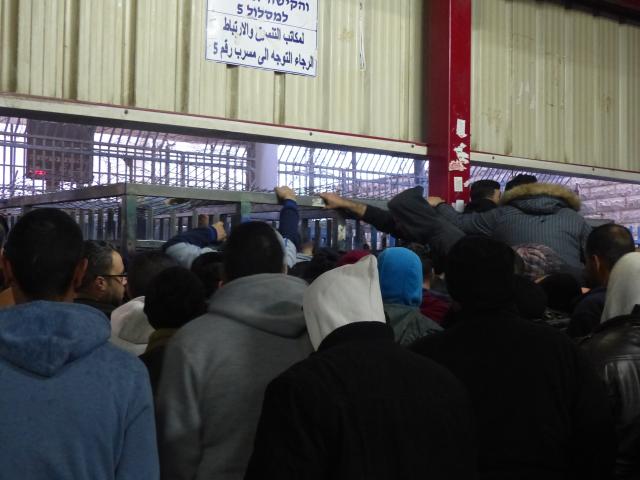 A crush at the gates of Qalandiya check point, Jerusalem.
Credit: EAPPI_H.Golden
Qalandiya checkpoint is a major Israeli checkpoint for Palestinians entering East Jerusalem. In many ways, it is an atrocity that it exists at all, as it sits fully on Palestinian land. No one enters Israel through it. They simply move from the West Bank to East Jerusalem. It is a place of high security, manned by armed soldiers and security staff exhibiting obvious contempt and disdain for the Palestinians who pass through. It's what I imagine a prison facility to look like — narrow cement walkways walled with steel bars that look much like cattle chutes, with turnstiles at the end of each walkway electronically controlled by soldiers, opening to a completely enclosed area where people hand their ID through a small hole in a window to soldiers, and where the conveyor belt is located for the X-raying of personal belongings. Soldiers voices boom out over loudspeakers, the sound bouncing off the walls. It is a very unnerving place, to say the least.
During the 4:00 a.m. – 7:00 a.m. period, the checkpoint is full of Palestinian laborers going to work in Jerusalem and students going to classes. It can easily take an hour to pass through the checkpoint, sometimes much longer. With jobs dependent on getting through on time, there can be jostling for position in the caged line. At the best of times, it is a cold, damp, and uninviting way to start your day. 
One busy morning a frail and weak older man arrived by wheelchair, accompanied by his sons. They appeared to be going to a medical appointment. The man was very ill and could barely stand. In cases like this, the soldiers are supposed to allow people to use the Humanitarian Gate, a gate that bypasses the throng of people while still completing the required security checks. I watched as the sons politely asked the young, female soldier to open the Humanitarian Gate. She angrily refused. A second request garnered the same response. Desperate, they looked over to me, their eyes pleading for help. I too calmly asked the same question, pointing out the man's infirmity. Again, she angrily denied the request. I asked one more time, her response even louder and more angry than before. With looks of resignation, the two younger men shrugged their shoulders. With one son on either side, holding the older man up by each arm, they walked to the end of the line to begin the arduous journey through the checkpoint — a journey I was sure the older man could not do. To my amazement, in unison the men in the line pressed themselves to the edges of the cage. The sea of humanity parted, allowing the sons to bring the older man through. In one short moment, an ugly situation in a cold and dark place, became the place where Compassion and Light shone through.
This experience has haunted me. What caused this soldier to deny assistance to a suffering stranger? And at times of great struggle, how do oppressed people rise up with such grace? I do not have satisfactory answers. But I do know that in a multitude of ways, I saw this story unfold numerous times across the West Bank. Yes, the system of oppression is the brutal military occupation, but the system is lived out through human beings who as they hurt their neighbor, ultimately hurt themselves. The suffering is real, for all involved. 
People ask what do I pray for? My answer is that I have wrestled with despair, with anger, with rage. Sometimes together. Sometimes separate. Sometimes, like the psalmists, it comes as lament. All I can honestly do is take the pain of individuals, the pain of the collective, and my cries for peace in this most Unholy Land, to God. Take it all to God. And then in silence, trust the One "who has created and is creating, who reconciles and makes new, who works in us and others by the Spirit" to do just that.
— Contributed by a former Canadian Ecumenical Accompanier. Their identity is being withheld to enable them to travel to Palestine again when it is safe. Please join them in praying during the World Week for Peace in Palestine and Israel, September 19 to 26, 2021.
World Week for Peace in Palestine and Israel Resources
The views contained within these blogs are personal and do not necessarily reflect those of The United Church of Canada.