On mountain highways, wide spots allow people to pull over and gain a new perspective on their travels. These meetings accomplish the same thing.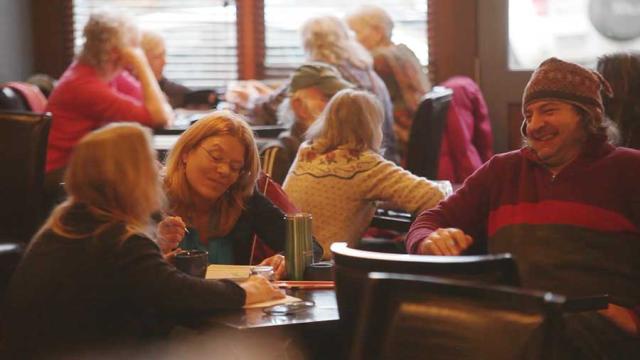 Dinner, song, and lots of conversation about spiritual or topical issues are all important parts of A Wide Spot in the Road events, held regularly in New Denver, B.C.
Credit: Orsi Carter
Published On: September 13, 2016
On the surface, the British Columbia community of New Denver seems like an odd place to find a grassroots reinvention of church. Tucked away in the Kootenay region in the province's southeast, 500 people live in the small village, where the pastoral charge has not had a minister in over 25 years. The village's United Church was recently sold, and when meeting in the sister church down the road proved impractical, the small congregation began meeting in members' homes.
Still, there is a real sense of spiritual renewal here. That's evident every other Sunday in Rory's, New Denver's only restaurant, during a free drop-in event called A Wide Spot in the Road.
The Turner-Zion pastoral charge, in collaboration with two local United Church ministers Therese DesCamp and George Meier of Heart's Rest Retreats, saw the need for a regular event that would draw people together for conversation, music, and dinner. Therese explained the name for the event was very apt for the area, for on mountain roads, wide spots along highways allow people to pull over and let traffic go by, admire the scenery, or take a breather and gain a new perspective on their travels.
People of all faiths, or no faith, are invited to come to A Wide Spot and talk about the topic chosen for that week. Past discussions focused on topics such as: What is happiness?; Why do bad things happen to good people?; and What's the difference between forgiveness and being walked on?
"We want to spark conversations," says Therese. "At these meetings, once people start talking, they keep talking."
All points of view are welcome at these discussions. As facilitator, Therese encourages participants to listen without prejudice to what others are saying, and to ponder what is said rather than try to convince others to agree with a different point of view.
Though she and George are committed Christians, they never mention God at these gatherings. "I let other people do that," Therese says. "It's important for participants to understand that we don't want to indoctrinate anyone."
She explained the area is very "unchurched," to the point of being hostile to organized religion. "We have places where we get to talk about Christ—at our Contemplative Days, at House Church. We don't need to here; here, it's just about making room for folks as they are."
Which is why the success of A Wide Spot in the Road is remarkable. Attendance at these events keeps growing, as the program awakens participants' spiritual hunger. A recent gathering on the sacredness of wilderness—using a film documentary looking at a controversial ski development in the area—filled all of the restaurant's 45 seats.
Therese said there is a community buzz about Wide Spot that goes well beyond participants—conversations begin with the announcement of the new topic and don't end for days afterward. Most importantly, attendance is across age groups, interest groups, affinity groups—a true and lively cross-section of the villages' citizens.
"It feels like we are blowing church out of the building," she says.
A new season of A Wide Spot in the Road meetings will start in the fall. For more information, contact Therese and George at revrevbc@netidea.ca.
—Paul Russell is Communications Coordinator with the Office of the Moderator and General Secretary.
New and diverse approaches to ministry are constantly cropping up across The United Church of Canada, and Embracing the Spirit wants to hear about them. If you are involved with a group that has found an innovative way to approach church, let us know, by filling in the Tell Us Your Story form, found at the bottom of the Spur Innovation page.