Michael Jagessar welcomes Advent as a time to create space, reimagine, and see the promise of the future.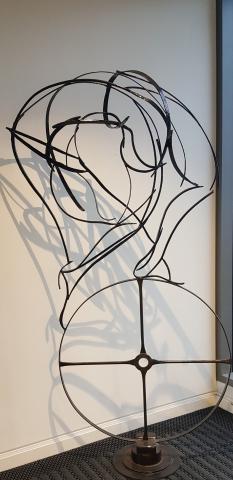 Credit: Michael Jagessar
Published On: December 1, 2021
I grew up with limited access to works of fiction and prose. There was no public library. Like my peers, I loved reading. It was not uncommon to discover, while reading a well-worn novel, a number of pages missing at some crucial point in the narrative. One had to let the imagination work hard to fill the gaps in. Our imaginations were nurtured and expanded by the numerous short stories and verses penned as a result of such gaps to share with each other. Imagination saved us, stirred our faith, and gave a larger purpose to what was largely insular lives. Advent is a time to create space, imagine, and dream hope.
Around us and beyond are those crying out for change. Many are weighed down by all sorts of challenges and decisions to make: mental well-being, climate justice, social inequities. Can we see the issues we are facing beyond local, regional, and national politics? Yes, things may be falling apart, but good things are coming. Advent seeps with the sense of a promised future, yet it may seem so far away from the immediate evidence around us. We have been waiting, anticipating, and trusting for too long. I went back to Louis Armstrong, to "What a Wonderful World" and John Lennon's "Imagine" to rescue my own imagining of a different world.
Advent 1 invites us to lean on and into God's promised future. Can we imagine hope shaped in the form of justice in light of a coming day that will reverse our current existential realities? What new stories and metaphors will help us break the hold of the many polarised spirals we are locked into; give space for a variety of voices and experiences; and invite us to imagine worlds where ideas and stories move across cultural boundaries puncturing uniformity?
My engagement with a variety of novels and children's books has massaged my imagination back into life to help me risk re-thinking, re-visioning, and re-imagining in order to open up spaces where play, difference, transformation, and paradox can live together. It is in the in-between-spaces where faith is birthed, lives, breathes, and finds meaning. Expect anything to happen at any moment. At the same time everything is happening right now. The present moment is a gift. What will I do with it? What will you do with it? A better world is possible. Imagine!
I suggest two books for your consideration: The Good Ancestor by Roman Krznaric (2020) and the Giraffes Can't Dance by Giles Andreae and Guy Parker-Reese (2000). Krznaric urges a radical shift from a "good Samaritan" aspiration to become "a good ancestor—to determine what legacies we are leaving to future generations. With fewer words and images, Andreae's book drives home the point that we can all dance (imagine) when we find the music we love.
An unwrapping prayer:
Break-out and break-through, God; move our eyes and ears beyond the immediate. De-clutter our minds of debilitating statistics, release us from the fear of what is strange and different, and breathe into our hearts and lives your conspiring way of expansive love.
—The Rev. Dr. Michael N. Jagessar is Mission Secretary - Europe and Caribbean Regions at Council for World Mission. He is based in Birmingham, UK.
The views contained within these blogs are personal and do not necessarily reflect those of The United Church of Canada.