Art is used to illuminate the intersections between spirituality and everyday life at Crescent Fort Rouge United, and the community loves it.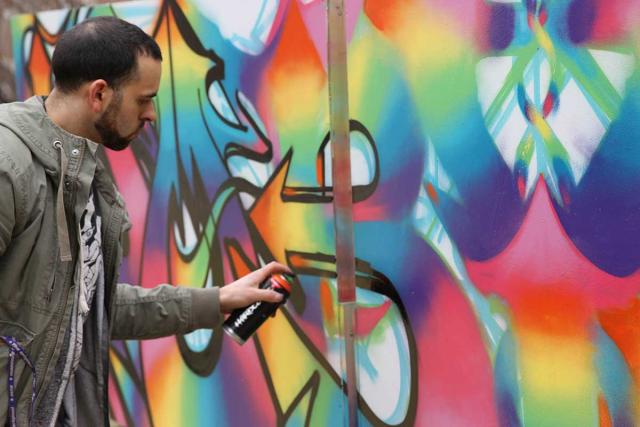 Graffiti artist Jeff Gasenzer creates a vividly coloured canvas at Crescent Fort Rouge United Church in April 2016. The church incorporates art in all its services during the 11-week arts festival.
Credit: Adam McGhee
Published On: October 24, 2016
A United Church in Winnipeg has found a unique way to reach out to and engage the surrounding community: through art. For 11 weeks, from late February to mid-May, Crescent Fort Rouge United Church (CFRUC) held art-related activities at the church, complemented by a three-day art show in April.
When asked about the impact in terms of church attendance and outreach to the community, visual artist and church member Sandi Howell replied: "In one word, huge."
This is the second year the church has encouraged the congregation and area community to discover the joy art can bring. "We believe that art enlivens, art enriches, art is spiritual and art engages," says Howell.
Attendance at this year's events climbed over the 2,000 mark, a 100 percent increase from 2015. In addition, there was an open plate donation opportunity at some events, raising $853.
Howell explains the purpose of the arts festival is to deepen relationships with the external community around the church and to encourage thinking within the congregation about common issues and potential future pathways.
A different art form is featured each week (visual, photo/digital, words, dance, music). This could happen during any combination of events during the week, plus art is included during Sunday worship.
Members of the congregation and community members organize and run all the events, with volunteers doing everything, including greeting, ushering, food prep, and event setup and clean up.
"Our church has a long-standing practice of allowing music, theatre and visual arts groups to use its space for a low cost or a trading of services," says Howell. "The relationship between CFRUC and the arts community just continues to grow, benefitting all parties."
Outreach to the community is a major part of the art festival. "We were delighted, time and again, to find ourselves surrounded by strangers, hopefully some of whom will forge stronger relationships with CFRUC," says Howell.
A community barbecue at the church attracted many people who "had no concept of what goes on behind those large wooden doors and who is inside," says Howell. "People are curious and often seeking answers themselves to life issues such as feelings of isolation and finding pathways forward."
Boosting church attendance, however, is not the primary goal of the festival. "We want to use the arts and spirituality to engage questions and issues in contemporary living," says Howell. "We want to sharpen awareness of the intersections between spirituality and everyday life."
Another goal is to increase understanding of the issues facing Indigenous people and new Canadians. During the art show, Howell says there was significant interest in Indigenous and new Canadian artists.
 "The attendees were deeply moved by what they said about their intersection with a new culture. At the same time, our First Nations artist was engaging the community in artmaking and a discussion about First Nations culture—a dialogue about intersection on a different level as it is the artist's mission to help people better understand truth and reconciliation."
Howell said the church plans to continue the arts festival next year.
"Crescent Fort Rouge United Church wants to use art as a dialogue tool for engagement with the neighbourhood, congregation and the arts community about future paths," Howell says. "We want to use the arts and spirituality to engage questions and issues in contemporary living."
—Paul Russell is Communications Coordinator with the Office of the Moderator and General Secretary.
New and diverse approaches to ministry are constantly cropping up across The United Church of Canada, and Embracing the Spirit wants to hear about them. If you are involved with a group that has found an innovative way to approach church, let us know, by filling in the Tell Us Your Story form, found at the bottom of the Spur Innovation page.