It's a "rite of passage" for members of Emmanuel United in Ottawa to travel abroad and gain a better understanding of how others live.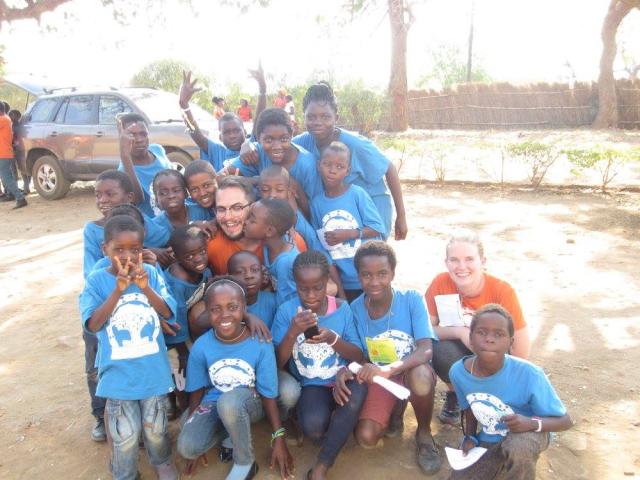 Emmanuel United counsellors Brett and Carla are warmly embraced by children at Camp Chipembi in 2015.
Credit: Kirsten Jeacle
Published On: February 16, 2017
Ministry at Emmanuel United Church in Ottawa doesn't just stay inside the church walls — it regularly extends to Africa, Central America, and beyond.
"Pilgrimages are really embraced at Emmanuel," says Jeannie Page, a licensed lay worship leader and Chair of the church's Global Partners Committee. "The congregation has a long history of being the hands and feet of Christ in the world, by supporting programs and projects both locally and globally."
The Global Partners Committee is responsible for the oversight and management of relations with Emmanuel's two global partners, Iglesia Bautista Emmanuel of El Salvador, and the Chipembi Congregation of the United Church of Zambia.
"I think it is important for us to try and understand our brothers and sister in the global South, and what their reality is," Page says. "How we live our lives here in the North affects them, when it comes to the environment and our lifestyle decisions, such as whether we purchase fair trade products, or not."
The Iglesia Bautista partnership is three decades old. It started when a Salvadoran resident was riding a bus in Ottawa, and saw a sign for Emmanuel, the same name as his church back home. He got off the bus and came into the sanctuary, looking for a faith community. Thankfully, someone in the church spoke Spanish and "a connection was made."
The relationship with Iglesia Bautista Emmanuel (IBE) is still going strong after 30 years. Page explains that over 120 Emmanuel members have visited IBE, to help out with housing projects, "building homes for people who had no means to buy a house and were living in shacks." They also acted as election observers, and participate in IBE ministries.
The focus of the current ministry in El Salvador is on providing help, and hope, to youth.
"The biggest need is to divert children and youth away from gangs and the cycle of violence in El Salvador," Page says. The church funds youth houses that provide sanctuary from the gangs, and Bible schools in the summer.
Because of the violence in El Salvador, youth pilgrimages there are on hold, "but we send our money and our prayers, and share information."
Five years ago, Emmanuel members started to work with the Chipembi Congregation of the United Church of Zambia. The first project was to build an ablution block on the church grounds, giving church members and visitors access to flush toilets and showers.
Pilgrims from Emmanuel United now go to Zambia every August, where they work with local youth to offer Camp Chipembi to 100 school age children. 
"It's a rite of passage for our members to go on a pilgrimage," she says. "The Chipembi ministry is quite a blessing for them, and a real eye-opening experience, as they are forced to adapt to a completely different culture. It is a real learning experience."
 "Until you are actually there and sit with them at meals, and pray with them, and talk to them about what is important in their lives, you don't know their reality," she says. "And when you go to their church, you feel the music, you feel the welcome, and you feel the incredible love, but you also feel the incredible hardships that they face."
Later this month, Page will be leading a group to Cuba to visit the Christian Centre for Reflection and Dialogue in Cardenas. In May, a group from the church will go to Louisiana to help rebuild homes damaged by Hurricane Katrina, with another trip planned to Chipembi in August. One-day pilgrimages are also held in the Ottawa area, for those not looking to travel far.
"Pilgrimages are really embraced at Emmanuel," Page says.
The congregation holds various fundraisers to fund these voyages. That includes the annual sale of pupusas, a traditional Salvadoran dish in a handmade corn tortilla that is filled with cheese, pork, and refried beans.
"They are very tasty," says Page, "and very popular, as people buy dozens at a time."
"People at Emmanuel United are definitely invested in our partnership programs," she says. "The biggest benefit is the relationships that they build. We get to know the people in other parts of the world, and they get to know us."
For more information about Emmanuel United's outreach program, email Jeannie Page.
—Paul Russell is Communications Coordinator with the Office of the Moderator and General Secretary.