Éric Hébert-Daly previews Latin American Heritage Month and celebrates the United Church's connection to Latino communities of faith.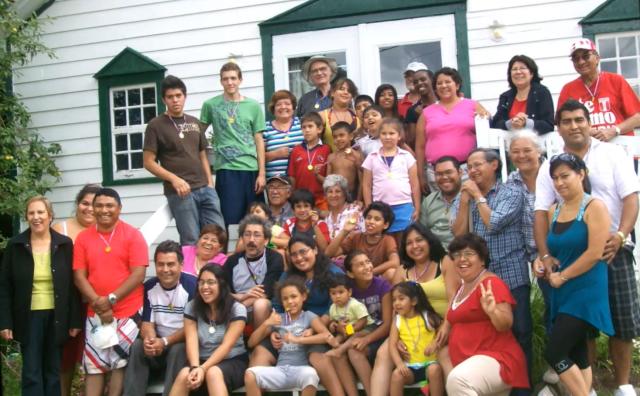 Members of Camino de Emaús at Family Bible Camp. (Photo taken before the pandemic.).
Credit: Camino de Emaús
Published On: October 5, 2021
I've been blessed in my role as Responsable for French ministries to work closely with The United Church of Canada's only Latino congregation, Camino de Emaús.
You might find it odd to hear that I would work with a Spanish-speaking congregation in my work with French ministries, but this congregation engages with the wider church in their second language, French. This community is predominantly composed of first, second, and third generation migrants from Latin America who chose to settle in Quebec and learned the language of their hosts.
This cultural community has been an inspiration to many as a place that understands deeply what it means to "dare justice." Their social justice orientation is deeply rooted in the ways that they live out their faith and the expressions of their worship, in style and substance.
For example, Christian base communities and house churches are a common feature to churches in Latin America. This model has become a key component of their ministry. To find out more about the history and ministry of Camino de Emaús, stay tuned for a blog post later this month. There will also be a special Zoom webinar on Thursday, October 28 at 7:00 p.m. EDT with members of the Camino de Emaús congregation, who will share stories of escaping brutal dictatorships and finding solidarity and welcome in Quebec. Find out more about the creation of this community of faith and how they settled into a new home in a foreign land.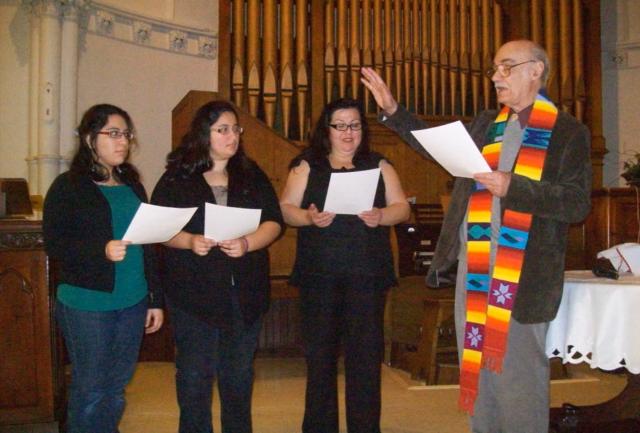 Camino de Emaús welcomes new members. (Photo taken before the pandemic.)
Credit: Camino de Emaús
Worship Resources and Ideas to Mark the Month
United Church congregations across Canada are invited to use some of the worship materials and prayers [Word document] offered by Camino de Emaús throughout this month and in other seasons of the year. They are available in Spanish, French and English. Camino has also prepared a full Spanish-language worship service [Word document].
The original Spanish version of "Jesus, You Have Come to the Lakeshore" (Voices United 563) is a beautiful addition to worship as well. There's a great lyric video version done by a United Church musician.
Churches may also choose to share recipes from Latin American countries, share songs and hymns, or choose countries from Latin America to highlight in their prayers. You may also share stories from the partnership work of the church in Latin America, made possible by gifts to Mission & Service.
Latin American Heritage Month Activities
There will be a number of special activities offered by the United Church of Latin American Heritage Month. Panel discussions, interviews, dance performances, and other events are planned throughout October. Watch our website and social media channels for Latin American Heritage Month activities.
However you decide to honour Latin American Heritage Month, savour the richness of what this wide array of regional and national cultures offers. I can tell you that I've been inspired and fundamentally changed by my encounters with the beautiful worldview and liberation theology that has been shared with me over the years. It has impacted my ministry and I'm certain it will impact yours.
— Éric Hébert-Daly is Responsable des ministères en français for The United Church of Canada.
The views contained within these blogs are personal and do not necessarily reflect those of The United Church of Canada.