On the International Day for the Elimination of Racial Discrimination, Kim Uyede-Kai calls us to disrupt racism wherever it is found.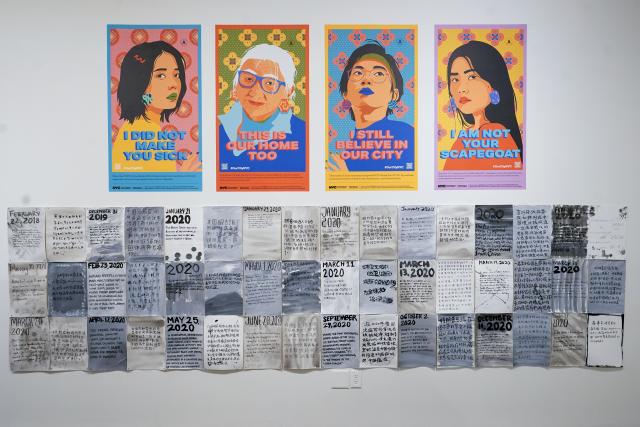 Posters to combat Asian hate on display at New York City's Chinatown Museum.
Credit: © AP Photo/Mary Altaffer
Published On: March 21, 2022
In 2022, the first anniversary of the March 16 Atlanta spa massacre of six Asian women and two Asian men perpetrated by a White man, I am especially aware of the alarming rise of assaults on Asian North American women and elders with fists, boots, knives, guns, and acid. As an urban Asian woman, I have experienced random verbal assaults by strangers on the street and non-verbal intimidation. As a woman, I always have to be wary of my surroundings when I am out. But I have never had to be hyper-alert and to fear for my life taking out the garbage, waiting for a mid-day bus or subway, leaving a store, working in my place of employment or opening the door to my house. Ordinary things that Asian women and elders were doing when they were randomly targeted by strangers, assaulted or killed in frightening numbers during the pandemic.
While the word "Asia" has origins in Latin and Greek, the people and cultures do not. "Asians" did not name themselves or their physical or human geography in Western terms. Asia is the earth's largest land mass and most populated "continent". And yet people whose ancestry is from Asia, are "hidden in plain sight" as African American theologian, Dr. Beverly E. Mitchell observes. Invisible in the White constructed race hierarchy, yet visibly "othered" on the streets when xenophobia and perceived economic freedoms are threatened. While Anti-Asian racism presents differently than anti-Black and anti-Indigenous racism and we are judged to suffer less, we share common vulnerabilities and damaged dignity because of how we look and how our Canadian histories are told or not told.
Racial discrimination is a complex, accumulative concoction of attitudes and behaviours. It begins in the unconscious and conscious mind, learned and reinforced in the home, school, media, workplace, community, and passes through the senses of sight, smell, and hearing, to rise up as discriminatory behaviours and speech. Add to the mix power, privilege, sexism, ableism, ageism, White supremacy, "othering," silenced stories, and judgments of arbitrary race differences, and the White "race" is the norm and all others are pathologized and demonized.
Racial violence and race hatred rage throughout the world today as virulently as they did in 1960 when police opened fire on unarmed Black people peacefully demonstrating against apartheid pass book laws in the township of Sharpville, South Africa, killing 69 and injuring 180. For protesting a racist pass book law. It took world outcry at this race-instigated massacre for the United Nations to designate March 21 as the International Day for the Elimination of Racial Discrimination in 1966.
Legalized racial discrimination is on my mind this year as 2022 marks the 80th anniversary of the uprooting, internment, dispossession, and exile of 22,000 Japanese Canadians from the West Coast of British Columbia at the start of World War Two. Many had less than 24 hours notice to pack one suitcase per family member weighing no more than 40 pounds, not knowing where they would be taken to, or for how long. No one knew they would never be allowed to return to their homes or see the belongings they couldn't take with them.
The Canadian government, provincial and federal, required children, women, elderly, as well as men be "registered," fingerprinted for pass books, sent to interior B.C. work "camps," "ghost towns," and/or constructed internment sites. Uprooted, interned, and exiled by their own country as "enemy aliens," Japanese Canadian homes, businesses, property, and possessions were sold for a fraction of their worth and most of the money received went toward paying for their own incarceration. Canadian history has dirty secrets that are still being uncovered.
After Canada entered into a time of peace when World War Two ended, all interned Japanese Canadians, none of whom were found to be traitors to Canada, were still discriminated against and B.C. did not allow them to move back to the west coast. Because the city of Toronto still did not allow Japanese Canadians to "resettle" in its city limits even after the war ended, the eastbound train would not let them off in the city and dad's family ended up east of Toronto. Still a high school student, dad burned his pass book, the hated sign of the legalized racism he endured from his birth country. It was as much an act of resistance as it was youth rebellion, and it is a legacy he passes on to me to resist racial discrimination in my time.
The late Very Rev. Bill Phipps, former Moderator of The United Church of Canada, often introduced himself as a "recovering racist." May he rest in power and may we all be on a lifelong journey of recovery from racism as Bill was, committed to uncovering biases in ourselves and church and society, to eliminating microaggressions, progressive encroachments on the rights of groups who are not White, and White supremacist norms that pit one race community's vulnerability over another's.
And may we make greater commitments to disrupt the systems that perpetuate racial discrimination and commit to recognize, see, and honour all those still hidden in plain sight.
— Kim Uyede-Kai is Shining Waters Regional Council Minister for Communities of Faith Support, Intercultural Diversity, Anti-Racism, and Right Relations and Co-Chair, Canadian Ecumenical Anti-Racism Network.
The views contained within these blogs are personal and do not necessarily reflect those of The United Church of Canada.