Whether passing through military checkpoints or during a global pandemic, singing brings joy and courage.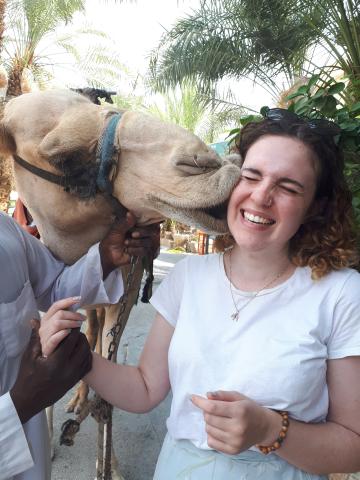 Tayana gets a kiss from a camel. 
Credit: Shanna Bernier
Published On: December 10, 2020
Shanna Bernier shares a series of Advent reflections based on the experience of visiting Palestine-Israel on a young adult pilgrimage in August 2019.  Eleven young adults and two facilitators travelled to Bethlehem to connect with their Christian roots, meet with United Church partners, and hear stories from Palestinians and Israelis about why this land is so sacred. Shanna's wish is for these reflections to inspire readers to explore the stories of Palestinian and Israeli people and to connect to the divine humanity in each story.  
Joy 
O Little Town of Bethlehem…  
This year we have faced unprecedented times of isolation, upheaval, and change. We continue to face a global pandemic, which has rocked us to the very core. In Canada we are mostly fortunate to have a solid national infrastructure, support for the most vulnerable, and reliable free health care. This fortune is in stark contrast to the challenges faced by developing nations, or places of conflict, like Palestine. The Israeli occupation has added another set of challenges to the fight against COVID-19. We have heard from our partners in Bethlehem how difficult it is to live under complete lockdown, and to close the city to all religious pilgrims and international tourism. 
How still we see thee lie…. 
During my own visit to the Holy Land in 2019, I had many moments of joy. We celebrated with ice cream, we climbed trees, and kisses camels. We laughed with local children holding baby goats and worshiped with joy in important biblical sites, as well as on our heavily air-conditioned bus with our local guides and our bus driver Albert. We sang a lot on our bus. Because of thoughtful preparation on the part of Rachel Lambie (who volunteered to lead music, and inspired this particular blog post) we sang favourite hymns from carefully scanned pages of Voices United on the tiny screens of our smart phones. Singing was an activity that brought us joy, but also courage. We discovered along our journey that if we sang loudly while passing through military checkpoints, we could get through more easily. It became a kind of super power for us. Singing became joy-filled, nonviolent resistance to the occupation.  
Above thy deep and dreamless sleep, the silent stars go by… 
The global pandemic has changed the way we do worship, mission, youth work, and pretty much every aspect of our church. It makes me feel sad to imagine church without choirs and congregational singing, especially as we approach Christmas. I feel such a close tie between my faithful joy and singing as the manifestation of that joy. I know that for now, keeping my singing in my home and in my car and in front of my ZOOM screen is how we collectively sing through this checkpoint. I am grateful for the voice I can share in other ways, to celebrate the joy that Christ's arrival brings us all.  
Yet in thy dark streets shineth 
The everlasting Light 
The hopes and fears of all the years 
Are met in thee tonight 
— Shanna Bernier lives with her family in Sherbrooke QC and is Program Support Minister for Youth and Young adults in Nakonha:ka Regional Council. Her passions include children's literature and making strawberry jam.  
The views contained within these blogs are personal and do not necessarily reflect those of The United Church of Canada.