Find out what's new on Advent Unwrapped.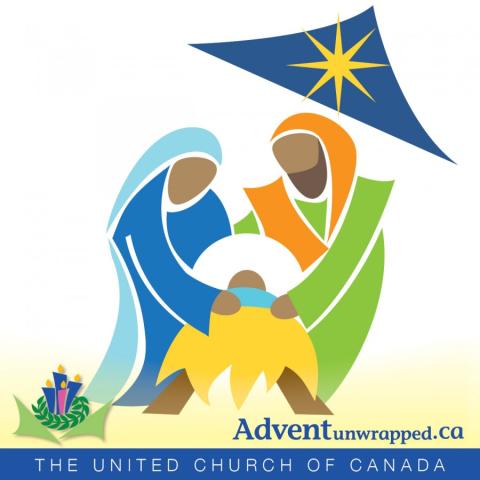 Credit: AdventUnwrapped.ca / The United Church of Canada
Published On: October 25, 2018
How are you getting ready for Christ(mas) this year?
If you are celebrating the Advent season as a family—or as an individual or an all-ages group of any kind—Advent Unwrapped offers an alternative to the advertisements, shopping lists, and hype that we are bombarded with at this time of year. Visit the At Home page for accessible, faith-based resources, scroll to the bottom to Connect with Us and sign up for frequent updates, and take part in social media with the hashtags #UCCan #AdventUnwrapped.
On adventunwrapped.ca, you'll find:
An Advent calendar you can put up on your fridge. Light a candle each Sunday, and use a magnet to prayerfully count down the days.
A new 16-page colouring storybook to actively explore the story of Christmas. Great for young artists of any age!
Family Prayers and Blessings: Some well-loved prayers and creative blessings you can learn as a family to support your Advent journey.
Watching and Waiting: For the week before Christmas, a simple daily ritual of praying the "O Antiphons," which are familiar from the carol "O Come, O Come, Emmanuel."
Coming soon: A charming new video series that explores the characters of the Christmas story, each of whom is assured by an angel, "Don't be afraid."
For worship leaders, the United Church offers year-round liturgical resources, including for Advent, on our website's worship section and in Gathering, a grassroots magazine that offers resources for worship planners.
On Advent Unwrapped, you'll find creative resources to further animate the season. Encourage your congregants to explore the site and sign up for e-mail updates. And stay tuned for our popular videos, which you can show every Sunday in your Advent services.
Visit the Advent Unwrapped At Church page to access:
New Advent hymns by Pat Mayberry and David Kai.
Story and activity cards for all ages, to support the blogs and videos that tell the Christmas story. Great for a youth group or a pew pack.
An Advent communion service, and a vigil based on the O Antiphons.
And more!
Together, let's get ready to make room for Christ and the radical, countercultural messages that Christ brings.
-Alydia Smith is Program Coordinator, Worship, Music, and Spirituality for The United Church of Canada