For Black History Month, Kermys Bonilla-Pontigo describes the important ways Afro-Latinos contribute to the African diaspora in the Americas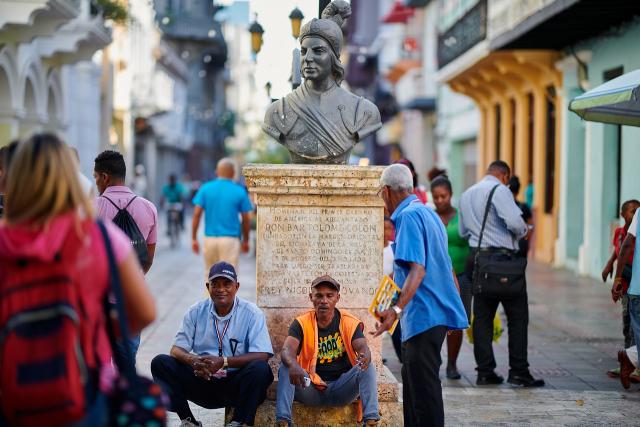 A statue of Bartholomew Columbus, brother of Christopher Columbus, in the colonial city center of Santo Domingo, Dominican Republic.
Credit: Lessplay1525 / Pixabay.com
Published On: February 28, 2022
Growing up, I rarely talked to my father about Blackness; not just about Blackness but about our Blackness. My father, who is Dominican, is not really to blame. The Dominican identity is deeply connected to being Latino-American: speaking Spanish and having been colonized by Spain.
The conversation about Blackness in the Dominican Republic and in our families is actually quite taboo. It is a tension that is everywhere, all the time. Spanish colonialism and American imperialism have undoubtedly created this sense of discomfort and insecurity. The Dominican desire to remain as distant as possible from Africanness comes from the fear of accepting our oppression which, ironically, ties us directly to the other Black peoples of America. This fear creates the desire to be as "unBlack" as possible. So, Dominicans pretend not to notice the enormous African influence on their culture: food, music, dancing and expressions.
Of course, in a country where an estimated 90 percent of the people are of African descent, this is a big problem. The conflicts between my country of origin and Haiti, our neighbour, often stem from discrimination and racial problems. I want to emphasize that these conflicts only serve to divide us and therefore weaken us and distract us from our true goal: the economic and political freedom of our peoples. I believe it is crucial for our families and institutions to bring up these topics of conversation, to give ourselves a chance to accept our racial differences and, by extension, each other. Ignoring our racial differences is not a sign of progress.
Because of this cultural trauma, when I was little, it took me a long time to figure out my identity, and it was forged, in part, through my interactions with other Latinos. Unfortunately, I became aware that I was more than Latino when I was the victim of racism at the hands of other, more pale Hispanophones. That racism, which is rooted in Spanish colonialism, is very present in Latino-American society.
Even a person who is Hispanophone and who suffers from oppression may, consciously or unconsciously, oppress another person from their community who is a darker colour. Terms with racial connotations are often found in daily vocabulary and, like everywhere in our world, people of colour and people with darker skin tones are oppressed by that language. Even in the Dominican Republic, the terms that refer to Black people almost always have a negative connotation. So Afro-Latinos suffer from oppression in their own communities.
Despite their constant struggle to claim their place in their society, Black Hispanophones have influenced every sphere of Latin American society and are an important pillar of that society. The most popular kinds of music and dance – salsa, bachata, merengue, cumbia, and more – originate in West Africa. Coffee, plantain, rice, black beans, mango, watermelon, tamarind, and cassava, which constitute a significant part of the diet of many Latin American countries and the world, are only found on this continent thanks to transatlantic slaves.
I also want to point to the fundamental contributions of Afro-Latino revolutionaries in the fight against slavery and colonialism throughout history. In the Dominican Republic, Venezuela, Mexico, Cuba, Argentina, Brazil, and many other countries the examples are innumerable, and the impacts are undeniable. Despite their battle against invisibility, the outcome of centuries of regimes that did not acknowledge their contributions and their rights, Afro-Latinos will never be erased. They will live through their culture forever.
— Kermys Bonilla-Pontigo is a musician and chef. He lives in Laval, Quebec and is a member of the United Church's only Spanish-speaking congregation, Église Unie Camino d'Emaus.
Are you looking for worship resources for Black History Month? Don't miss the new Black History Month worship liturgy created by members of the United Church's Young Black Scholars program: "2022 Black History Month Worship Liturgy: Stories of Black Experiences in Canadian Churches," which includes links to videos and a podcast by the Young Black Scholars.
See the collection of books on Black history, racism, interculturalism, and diversity available from the United Church Bookstore at UCRDstore.ca. 
The views contained within these blogs are personal and do not necessarily reflect those of The United Church of Canada.