An Advent calendar can help set apart Advent as a special time.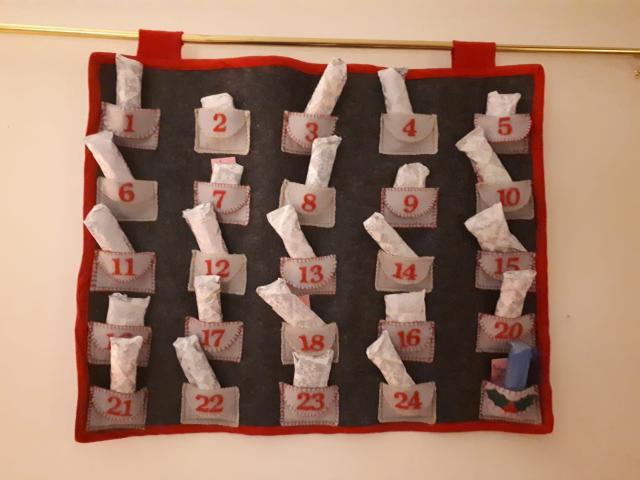 Credit: Alydia Smith
Published On: November 6, 2019
My family is not particularly religious. We co-exist quite well, but it can become a bit awkward around November and December when I want to spend more time celebrating and preparing for Christ and my family wants to spend more time celebrating and preparing for the holiday season (think Christmas markets, rum cake, crafting, and chocolate).
Over the years Advent calendars have become a happy medium, something we can all do together, that help us celebrate both the season and the reason. As a result I am a bit obsessed with Advent calendars, and my family and I have a lot of fun creating new and unique ones each year (the picture above is of a calendar that my mom, sister, and I made).
Here are some fun ideas for Advent calendars that you can try at home or at church to help set apart Advent as a special time:
Add daily activities to your store-bought Advent calendar so that before you eat the chocolate or unwrap the Lego piece you report on what you have done to get ready. 
Hang your stockings a little early, and each day add a love note or affirmation to them. If you live with others, encourage each person to write a small note or affirmation each day. In my family we might include knock-knock jokes and punny puns—things we know will cheer each other.
Pray together every day during Advent. Use the "Names for Jesus" activity from the Advent Unwrapped Activity Sheets to create a prayer jar. Every day, pull out a name for Jesus, talk about what the name might mean, and then pray together using that name. A simple formula for prayer might be: "[Name for Jesus] you are [describe Jesus based on your discussion or the name]. Thank you for [things you are grateful for]. Please help us [things you can do for yourself and others that you would like to pray for]. Amen."
Use the Advent Unwrapped Calendar in your home. Set apart a specific time every day, maybe before a meal or at bedtime, to prepare by reflecting on the words in the calendar. You may want to set a timer and quietly reflect for, say, 45 seconds and gradually add more time each day. You could also talk about your reflections with others over a meal or on your way to school or work. Or keep an Advent journal to write down your thoughts.
If you are looking for inspiration for homemade Advent calendars, check out Pinterest.ca or Google "homemade Advent calendars."
Sending you good vibes as you prepare for Advent. I hope you are able to find something that helps you and your loved ones celebrate both the season and the reason.
Prepping with you,
Alydia
—Alydia Smith is Program Coordinator—Worship, Music, and Spirituality at the General Council Office