Fritz-Gerald Joseph dreams of a better Africa, with more opportunity for eager and aspiring youth.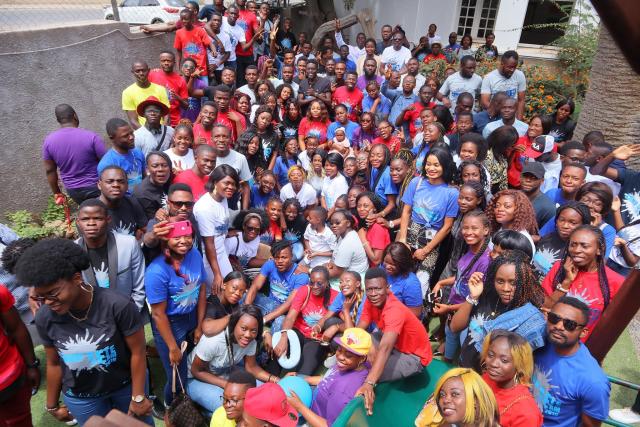 Credit: Courtesy of Fritz-Gerald Joseph
Published On: July 4, 2022
My name is Fritz-Gerald Joseph. I am married to Emmanuela Loccident, and together we had the grace and privilege to serve as mission co-workers sent by The United Church of Canada on behalf of Global Ministries, which is a common missional witness of the Christian Church (Disciples of Christ) and the United Church of Christ. 
For four years, from October 2017 to October 2021, we have served the Evangelical Church in Morocco, a French colonial church that was first established by the Reformed Church of France. In 1958, it became the Evangelical Church in Morocco to reflect the change in the political relationship between Morocco and France, when Morocco gained its freedom from France.   
Today I have the honor and the grace to welcome you to "The Mother Land"–Africa! This beautiful and rich continent is where the words "diversity and richness" are made alive. The Evangelical Church in Morocco (Eglise Evangélique au Maroc or EEAM) is a community of faith that is diverse on so many levels. From different ages and stages of life, to different tribes, cultures, and theological backgrounds, The Evangelical Church in Morocco is a good representation of Africa with a membership that is from more than 40 countries of Africa and the world. The membership is predominantly composed of young adults. 
These beautiful young people are full of energy. They are alive. They have great potential, big dreams, and aspirations. They are thirsty and eager to learn, grow, serve, and make a difference. They all want a better Africa, a place where they can become everything they could imagine or dream of. "They just want to live" as many have said to us! By that, they mean that they want to be able to have options and opportunities like other young adults in Europe, America, and other parts of the world.  
As we accompanied them, listened to them, talked to them, and as we suffered and rejoiced with them, cried and laughed with them, chanted and danced with them, we became part of them, and they became part of us and together we hope for more, we dream of more. More peace, more justice, more opportunity. Together we imagine a future that is brighter than the clouded past we have known. 
Many of them had thought that this future was further away, or it would be created by their parents or one who holds high positions in their actual governments. As time passed, they realized that this so desired future has never really been in the hands of those in power even though they have a great influence on it, but the future of Africa is in fact, upon their shoulders, and we share this weight with them. 
These young people are the future of Africa. They are right here and right now. If we want the world to be a better place for everyone, if we want to see a better Africa where every child and young person can become whatever they dream or imagine, we must participate to create it now with them. And we do so by accompanying and empowering them today. 
There are so many things that need to be done. We cannot do everything at once, but we must do something and do what we can. I strongly believe that each one of us has a role to play in the transformation of making this world a better place now, and for generations to come. I also believe that Africa is the future of the world. We need to pay more attention to this continent. For these past four years, we have discovered and learned many things that I would not have time to describe in this brief communication. But one thing that caught my attention since we arrived there is the awakening of a new generation of leaders. These young Africans are eager for change, hope and opportunities. They not only hope for a better world, a better Africa, but they are also willing to create it. They pray, work and fight for justice, peace, the healing of their people, and the prosperity of their land.  
Today I invite you to join us and accompany them in this honorable quest. There are so many things that need to be done. We cannot do everything at once, but we must do something and do what we can. We need intercessors to pray for them, innovators to innovate, leaders to lead the way, donators to finance projects, and we need everyone who can do something to do what they can. We are grateful for those who are already doing something to help in some way. We thank in advance those who will get involved and participate somehow. Thank you for your thoughts and prayers, thank you for your support and help.  
"Let love be genuine; hate what is evil, hold fast to what is good; love one another with mutual affection; outdo one another in showing honor. Do not lag in zeal, be ardent in spirit, serve the Lord. Rejoice in hope, be patient in suffering, persevere in prayer. Contribute to the needs of the saints; extend hospitality to strangers." 
Romains 12.9–13, NRSV 
–Fritz-Gerald Joseph served as a mission worker with Global Ministries, and most recently served The Evangelical Church in Morocco. 
The views contained within these blogs are personal and do not necessarily reflect those of The United Church of Canada.