The Lucas Holtom Carnival entertains area families, honouring the two-year-old boy it was named after.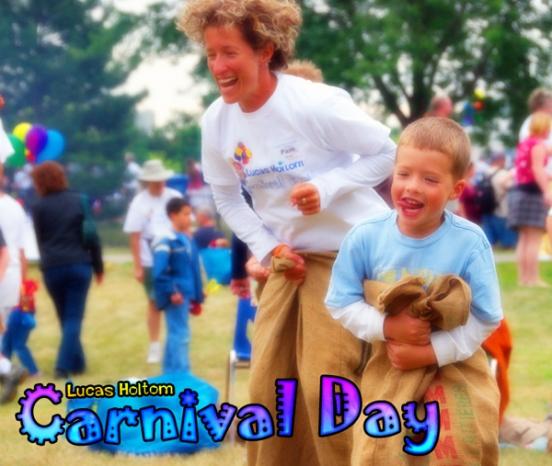 Credit: Courtesy of Lucas Holtom Carnival.
Published On: November 14, 2016
Everyone loves a carnival, especially if it is free.
That is exactly what North Bramalea United Church in Brampton, Ontario, has offered to the community every second Saturday in July for the last 16 years. On that day, the Lucas Holtom Carnival Day fills a city park behind the church, with area residents — approximately 5,000 this year — coming out to enjoy the event.
"People are amazed at the size of the carnival, and the fact that it is free," says Jamie Holtom, lead minister of North Bramalea United. The family-friendly festival offers visitors scores of different activities, including a climbing wall, a dunk tank, bouncy castles, pony rides, live entertainment, and much, much more
The festival is named after Holtom's son, Lucas, who was tragically killed in Pine Lake, Alberta in 2000, when his family was caught in a tornado. Holtom explained that he and his wife Katrina wanted to do something to honour Lucas, and they came up with the idea of setting up a free family carnival in his memory.
"Even though he only lived to be two, he had a real joyous life," Holtom said. "So what better way to celebrate his life, than to give other kids a chance to experience the same joy he found?"
Since there is no admission charge and all attractions at the carnival are free (only drinks and food cost money), the festival relies on sponsorships from area businesses to cover operating costs. Once people know about the festival, "they are really happy to help out," says Holtom.
Running the carnival requires a huge team of volunteers, many from the church. "An amazing number of students also volunteer each year," he says, noting that Katrina is a high school teacher in Brampton.
"The carnival is a blessing to the community, and we love to do it," Holtom says. "It is truly an amazing labour of love"
The City of Brampton certainly appreciates the efforts he and church members put into the carnival and many other community events. In 2015, Brampton named him "Citizen of the Year."
After noting he was honoured by the award, Holtom was quick to credit others. "No one does this stuff alone," he says. "There are so many people here at the church, and beyond, that share in this honour."
There is also a spiritual aspect to the Lucas Holtom Carnival Day. "No one can change the past, but on this day, there's a real sense of hope, and redemption," says Holtom. "There is a sense of God bringing life … there is a spiritual element to this day that is hard to miss."
Since moving to its present location in 1987, North Bramalea United has continued to grow as a vibrant community of faith, sharing Christ in Brampton and the wider community, with 400 plus worshipping together each Sunday morning. While some people credit the church's informal approach — including contemporary music and creative programming — for its success, Holtom says there is something deeper.
"At its core, our church's real strength resides in its spiritual vitality and strong leadership. North Bramalea United has always been blessed with those things."
Anyone can watch a webcast of the church's service each Sunday at 9 and 11 a.m. Eastern Standard Time. Past services are also available.
When asked how many more years the carnival will run, Holtom just laughs, noting that volunteers are already planning for next year's carnival.
"It has become a real big part of the church's life, and a big part of the lives of people in Brampton," he says.
For more information on the festival, check its Youtube channel, Facebook page or Twitter feed.
—Paul Russell is Communications Coordinator with the Office of the Moderator and General Secretary.
New and diverse approaches to ministry are constantly cropping up across The United Church of Canada, and Embracing the Spirit wants to hear about them. If you are involved with a group that has found an innovative way to approach church, let us know, by filling in the Tell Us Your Story form, found at the bottom of the Spur Innovation page.