LGBTQ Syrian Refugee, Anas Qartoumeh shares his story of overcoming fear, welcoming love, and starting a new life in Canada.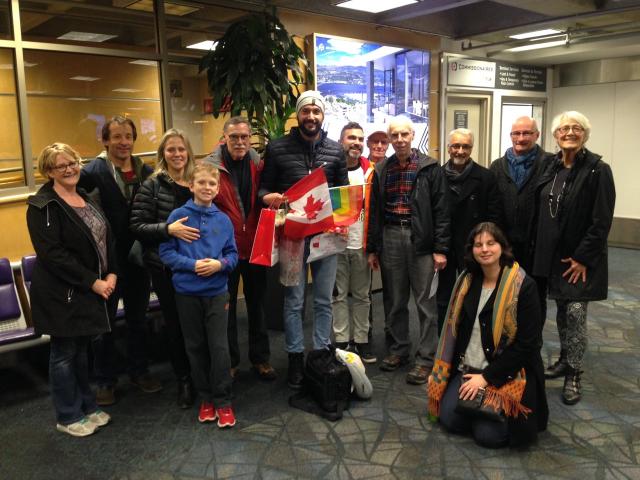 Members of CORC welcoming Anas Qartoumeh to Kelowna
Credit: Courtesy of Jodine Duc (CORC member)
Published On: September 20, 2022
My name is Anas Qartoumeh. In 2015 I fled my homeland in Syria to avoid being drafted into mandatory military service. I crossed the border into Lebanon, a community overwhelmed by refugees, and then moved to Kurdistan Iraq with a job opportunity to work as a senior auditor with Deloitte and Touche.
As a gay man, living in Syria, Iraq and throughout the Middle East, the closet was essential for survival. I lived an hour away from Mosul where ISIS throws "gays" from the roof. Sadly, their intolerance is also celebrated by the community, even when ISIS itself is fairly rejected by a majority of the Middle Eastern community.
 
Then, in 2016, a Canadian Syrian writer Danny Ramadan connected Syrian LGBTQ individuals with Rainbow Refugee Vancouver. Danny found us in a private, all anonymous Facebook group. He joined with an open profile, full name and profile picture! Danny shared his story and offered to help those in need. I reached out to Danny, he asked me to write my story, and then Rainbow Refugee sent my application throughout Canada to find an immigration sponsor.
The Central Okanagan Refugee Committee (CORC) came to my aid. When I first spoke with Jodine, a member of CORC, I could not believe it. I thought it was a scam call and could not possibly be true. Jodine spoke about Kelowna and asked me if I was interested in coming to a small city (I was like big hell yes, please!). In fairness, I had no idea where Kelowna was on the map nor where I would be going. All I knew was, I needed to be out of the Middle East. Jodine kindly sent the required electronic forms to me and asked me to fill out an application.
About 10 months later I received a call from an immigration officer scheduling an interview. I was delighted to answer that call. I went to my interview and the amazing lady from Quebec strongly recommended me to have an Arabic translator. Her concern was that any inaccuracy would lead to a denial. After explaining my fear that the Arabic translator would expose my sexuality, she accepted and told me that "we both have accents so let us make a deal, if I do not understand you, I will feel free to ask you to repeat, so please do so."
She made me very comfortable. She asked me tons of questions about every place I lived, about my case, my family, and my experience. I had to explain my entire life in an hour and a half interview. My security check took about 6 months, with past living locations, medical tests and flight arrangements.
In November 2017, I arrived in Canada to see CORC members at the airport with rainbow flags and lovely smiling faces. It was a very emotional moment full of excitement and fear. Although I left everything behind me and came to the unknown, I immediately felt safe and loved. I remember thinking to myself, that the community has welcomed me and I have a new family here.

Over the last five years my integration has had its ups and downs, and the people of CORC and Kelowna have opened their hearts and their homes to me.
My first 30 days was a complete immersion into life in Kelowna. Each of the CORC members and volunteers spent a full day or more with me. To get me settled they helped me open a bank account, drove me to job interviews, and connected me with mentors in the community. I met their families, shared in the local culture, and became part of their lives. For my first three months, Carol Taylor a former honourable member of CORC opened a room in her home and treated me like her son.
As a newcomer I did face challenges in getting a job at level of my experience. My first employer dismissed my previous qualifications and I felt pressured to accept the entry level employment offer. Over the last five years, I have had to upgrade my bachelor's degree, and redo my CPA (Certified Professional Accountant) to be recognized. After passing my CPA exam I have been appointed as a finance manager at UBC which finally allowed me to catch up on what I had left.
In the Middle East I lived in the closet, and I did not fully accept how dangerous the situation was until I came here and lived my life freely. In 2018, I came out publicly when I was appointed the grand marshal of the Kelowna pride parade. I was celebrated by Canadians and later shamed by majority of Middle Easterns. I had a huge backlash that I was not prepared for. Hateful messages had flooded my social media and my phone. Former colleagues felt that it was necessary to share their hate on my LinkedIn account too.
 
Someone forwarded an online article about the pride parade to the people who knew me in Syria. From that I have lost my childhood friends, and all but a few of the people that were closest to me. Even in Canada, our local Arabic community still struggles to find their voice to stand with the LGBTQ community.
Many immigrants choose to go to bigger cities out of fear that the smaller communities will be small and conservative. I have had no incident of being rejected or unwelcomed in Kelowna. I am very grateful to CORC members and the community who welcomed me to Kelowna. They granted me a new life, a new family, and a sense of belonging. I found peace and love in Kelowna. I have never felt as settled and content as I feel now.
I cannot describe enough how grateful I am for being here. It is truly life-changing.
 
With love,
  -Anas Qartoumeh
Anas has created a mentorship initiative with the goal of helping other LGBTQ+ people who struggle with coming out. Through fundraising, he has been able to provide refreshments and create a space for them to meet together.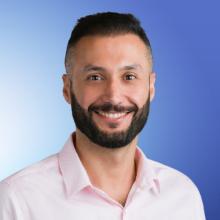 Anas Qartoumeh
Credit: Credit: Tom Kemp
This article was originally shared in the Refugee Sponsorship Newsletter. Subscribe and stay connected.
The views contained within these blogs are personal and do not necessarily reflect those of The United Church of Canada.