Trauma expert Diane Strickland asks us to find our way into the Christmas story wherever we are and however we can.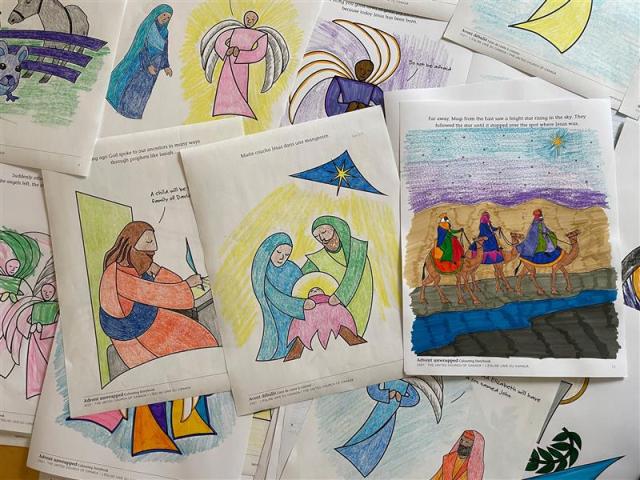 Advent unwrapped Colouring Storybook
Credit: Diane Renault/The United Church of Canada
Published On: November 17, 2021
Joseph is straining to find the right way through this problem. His plans with Mary have been derailed by news of her pregnancy. What is he feeling? Shock? Anger? Hurt? Curiosity? Worry? Confusion? Insecurity? Maybe all of them. He decides to divorce her quietly. It's a legal step tempered with discretion for Mary and himself. He knows it is not his child. Mary tells a story that is difficult to accept, and even if it is true, where does he fit in to it?
Mary never asked for his input on her decision to say "yes" to God. And God didn't even give him a head's up, never mind bringing him on board! Joseph seems to have no power to do anything except divorce her. What is unfolding seems to have nothing to do with him—proceeding with a legal option and a minimum of fuss is all he can do. He goes to sleep that night with one option only, but he will wake with another.
In a dream, God speaks to him about Mary's story being true, and invites him into it. Now he must decide whether he will step into the story with her, unsure of his role and knowing that the story is going forward with or without him. It began that way and will finish that way. Still, he chooses to say "yes" to God and come what may, now he's in the story, too.
Most years, Advent is a like a collector lane to help us get up to speed and put us on the holy highway for Christmas. This year, how are we going to find our way into the story? It feels like we finally topped it with an environment seriously destabilized, an awareness of how far we are from each other in the harm done to Indigenous peoples through colonialism and racial injustices, an ever-ripening crisis for human safety in the world, a global pandemic still in play, and our own lives running out of adaptive energy and effective responses. It's going to be hard to find that collector lane this year. But just as we see that the story of Mary pregnant with Jesus is going forward with or without Joseph, we can seek a dream that will make a way for us to go forward with it. We can be in the story, too.
What would it mean to open ourselves to "other options"? Joseph didn't have to exercise the option God gave him in a dream, but he accepted it. He accepted a role in that story that was supportive, not starring. He accepted a role that was not necessarily prudent and did not resolve the complexities that perhaps bothered him the most. He accepted a role that held no guarantees of successful outcomes. He accepted a role that ended up being midwife to God's hope for all creation.
The familiarity of our Advent and Christmas stories, our carols and rituals, are a great comfort to us in times of stress and uncertainty. They are like the warm hugs we have not been able to offer each other. There is nothing wrong with wanting those things from this season. I love the "Silent Night" moment that we "sing" most effectively when the carol is finished and we are quiet in candlelight together. But is that all? Is that everything?
Joseph asks us to be open to more. Joseph asks us to accept a role in the story of God loving the world and investing again in humanity that may not resolve all our questions, may not be convenient to our plans for our lives, and may not hand us much control of the narrative after all. Each of us has an option to use the comforting gifts of Christmas to live as midwife to that story of God's hope for all creation unfolding again and again and again in our service to the world God so deeply loves.
Find your way into the story and keep it going, wherever you are and however you can. Come alongside a narrative of God's investment in us and all creation and step into it. It unfolds not at our bidding or under our control. The story is going forward with or without us. It began that way and will finish that way. Thanks be to God!
— Diane J. Strickland works with survivors of natural and unnatural disasters. As the co-creator of The 3D Path for People and Organizations, Diane uses this multi-dimensional approach to get to the heart, soul, and mind of the matter. Diane is a Certified Compassion Fatigue Specialist-Therapist and a Community and Workplace Traumatologist.
The views contained within these blogs are personal and do not necessarily reflect those of The United Church of Canada.