A neighbourhood discovers community in unexpected ways, as "Dad jokes" go viral during the pandemic.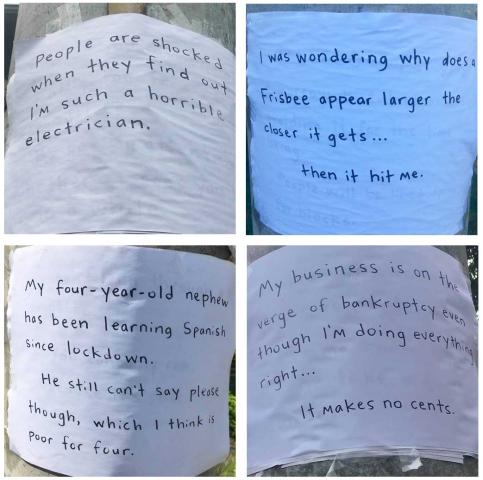 Credit: Sara Stratton
Published On: December 29, 2020
How do you lift up community in a time of pandemic and isolation? Someone – I don't know who; let's just call them Dad – in my east-end Toronto neighbourhood did it with terrible jokes, and I think it's rippled out far further than they ever could have imagined. And, I was surprised to discover, it meant far more to me that I would have thought.
One morning in March, my partner came home from her early morning run and showed me a picture on her phone. A handwritten joke, taped to a light pole on our street. "If you can think of a better fish pun, let minnow." And then she said, "there's more!"
A visit to what we came to call the "Dad Joke Light Pole" became a part of our afternoon walks and, it seemed, many others'. Sometimes you had to artfully achieve social distancing so that everyone could get a look at the day's work. Believe me, you didn't want to miss gems like "To the man who stole my thesaurus: I cannot find the words to express how upset I am." People even began adding their own jokes.
During this early period of the pandemic, I began sharing the posts on my Facebook feed and was astounded at the response, particularly from colleagues in the United Church, at every level. People in the pews who didn't know what was coming next; colleagues in pastoral ministry, who in those early days were trying to figure out how to do church and care for their community; colleagues in the Regional and General Council offices who were working tirelessly to support them. Everyone was stressed and exhausted, and everyone needed to be buoyed up.
Late in the summer, someone started accusing Dad of littering and began to rip the jokes down. Dad responded kindly but firmly with a series of litter-based jokes, and kept going. People continued to add jokes and notes of appreciation. By October, things had petered out and I assumed it was all over.
Then, in late December, my partner once again showed me a picture from her early morning run. Another couple of jokes, and a letter back to those of us who loved the jokes, who shared our own, and yes, even the person who kept ripping them down. "Thank you," Dad said, "for making the year fun and memorable."
2020. Fun. I would not have thought that.
Around the same time, a colleague in pastoral ministry asked on Facebook what good things happened to us in 2020, as another way to lift up community in a time of pandemic and renewed isolation.
The answer to me was immediate: finding the Dad Joke Light Pole, and sharing its infectious, infinite joy.
Thanks, Dad.
 – Sara Stratton serves The United Church of Canada as Reconciliation and Indigenous Justice Animator. This is her personal reflection.
The views contained within these blog posts are personal and do not necessarily reflect those of The United Church of Canada.