For Asian Heritage Month, Minister Woong Youm reflects on his journey to reaffirmation, transformation and interconnectivity.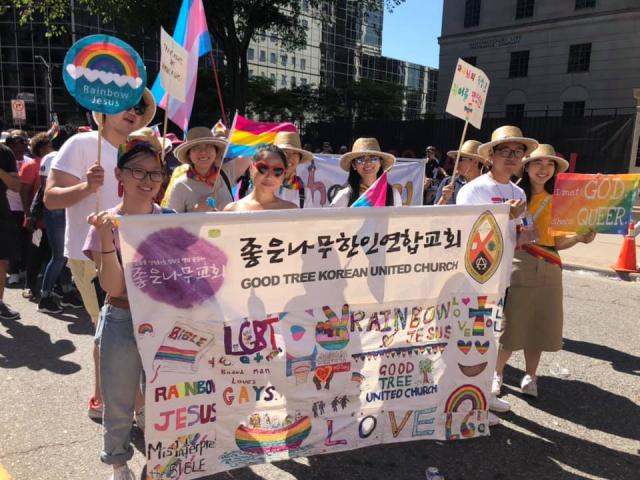 Good Tree United Church Pride Participation
Credit: Woong Youm
Published On: May 26, 2022
There is a famous place called "Gamcheon Cultural Village" in Busan, South Korea. Built on a steep mountainside, the area is currently known for its layered streets, twisted labyrinth-like alleys, and colourfully painted houses, cafés, and art galleries. But before being transformed into a famous cultural hub, Gamcheon Village was a mountainside community called "Moon Village" (Dal-don-nae) where marginalized people lived. Most of the residents were poor people who worked in factories, construction sites, fishing boats, or street markets, with unsafe living conditions.  
As a child, I lived in Moon Village for 10 years. My family lived in a very small, slate-roofed house. The village people shared a big well since there was no water pipe connected from the town water supply. When it rained, our family used to put baskets or pots in the house to catch rain leaking through the roof.  
Although I grew up in this condition of poverty, I have many wonderful memories of my childhood. The village families were closely connected with each other just like a family. While both my parents worked night shifts in a factory, a friend's mother took good care of us until my parents came home. In this village, the women took care of the elderly people who were sick and living alone. When some families were in financial crisis, each family donated a small portion of rice and kimchi to the family so that they could survive. Some of the families were mothers with young children, whose husbands were working on fishing boats far away, for over a year at a time. The village people helped these mothers and their kids, by drawing water from the well and fixing the broken roof, etc. When a young woman's husband came back home, a big welcoming party was held, where all the people prepared the meal together and shared the joy of their family reunion.  
I'm very grateful that while I grew up in this poor village, I truly learned how the marginalized people lived together, sharing the bond of friendship and mutual care. I witnessed how powerful it is sharing one another's stories of pain and joy, and that this interdependency was a living source for them to endure their heavy life-burden and hardship in this marginal community. And my own childhood life in Moon Village was also the living resource for me to help me to understand who Jesus is from marginal perspectives. Later, I studied Minjung Theology at Hanshin University, learning that Jesus Christ identifies with the Minjung, the marginalized people at the bottom of the social order, and helps build an alternative community of life with and for the marginalized through friendship, mutuality and solidarity with them. That was a subversive message for me, becoming the deep spiritual and moral ground for my faith journey. 
Since migrating to Canada in 2004 with my wife, YunJung Kim, I have lived at the marginal site in the Canadian mainstream host society. Taking the complex and complicated migrant life trajectory as a racialized migrant, I have navigated many uncertain spaces to develop my life, feeling not fully belonging either to Canada nor Korea. While serving as Minister of Good Tree Korean United Church in Toronto for over 10 years, I have been grateful that we can share one another's life struggles of being outsiders in the society and yet encouraged to find joy and empowerment in faith. The migrant reality is a tension-filled life with many systemic barriers and internal obstacles, yet I have experienced that the marginality site is where Korean immigrant Christians can dream of a different future and enliven the vision in their reality.  
Since Korean immigrants experience the pain of being partially included or excluded from the dominant culture, the members of Good Tree Korean United Church willingly embrace with compassion those, including LGBTQ2+ people, who are still forced to live at the cultural, racialized, and gendered periphery of society. Since Korean immigrants experience the hardship of surviving in a new land, the members of Good Tree Church want to support refugees and their families to find their new home in safety and well-being. Because they know well how their life becomes precarious by their legal status controlled by the immigration office's imperialist authority power, they are able to be more compassionate with and build solidarity with undocumented migrant workers in their struggle for human rights and dignity.  
As the Good Tree Church members have newly learned of their own complicity with settlers' colonial process in the colonial relationship with Indigenous communities, they willingly practice "Acknowledgement of the Land" in their Sunday service every week, and engage in listening to many Indigenous stories and seeking right relationships with them on Turtle Island. These kinds of new learnings and justice-seeking practices of the Korean congregation of Good Tree United Church have been cultivated from their liminal site, and have served to challenge dominant norms and assumptions, and to build a new welcoming and interconnected community of life with others. That is the small step of Korean immigrant Korean Christians to live out their discipleship in their marginal migrant situations in Canada.  
While taking this faith journey with Good Tree Korean United Church, I'm grateful for the learning opportunity of reading the book, Jesus and the Marginalized: Jesus Christ for Koreans in The United Church of Canada. In the book, Don Schweitzer significantly explores how Korean migrant Christians are enabled to lift their capacities to build a new community of life in the religious and social sphere across difference transcending the dominant narratives and unjust structures of Canadian society. Schweitzer writes: 
The capability of Koreans means that with the grace of God they are able to carry out a prophetic ministry within the United Church and Canadian society of identifying the exclusions and oppressions in both, of standing in solidarity with the victims in both, and holding out both transcendent principles as guidelines for the church on its way. (p.45)  
Schweitzer's notion inspires Korean immigrant Christians to reaffirm their potential power of transformation and interconnectivity fostered from their marginal living site.  
While this sounds very positive, from my own experience, there are many difficult challenges experienced by Korean immigrant Christians to fulfill such important roles in society and The United Church of Canada. English is always a high barrier limiting the ability of Korean-speaking immigrants to raise their voices in the public space of The United Church of Canada and wider communities. Internalized racism and its related fearful experiences are deeply imbedded in Korean immigrant people's mindset and practices in which they unconsciously and conspicuously repeat racism, sexism, and harmful practices inside and outside the church. Further, their deep nostalgia for their motherland, and the hurt they feel of being perpetual strangers in the mainstream Canadian society causes Korean immigrants to be strongly attached to their own comfortable traditions and cultural communities. This prevents them from developing openness and the ability to connect with others in their differences.  
Schweitzer insightfully challenges the Korean immigrants to make intentional efforts to be more open, relational, and responsible:  
Koreans are called to care for their families and to build supportive and celebratory diaspora communities that enable themselves and other Koreans to build new lives in Canada. As long as this inward focus on "clustering" creates communities with porous borders that are open to others and wider society, it is in keeping with the teaching and practice of Jesus, who entered into community with others, and whose teaching was often geared to the creation and sustaining of healthy communities. However, Jesus calls Koreans to not only build up their own communities, but also to be concerned about and involved with other minority groups and the victims of exclusion and injustice in surrounding society. (p. 75-76)  
This is an invitation to Korean communities to engage in self-critical examination with such questions as: How can we become more compassionate, and relate with the marginal people in Canada? How can we actualize the beautiful power of the life-web across many barriers from our complicated reality of migration? Are we ready to open ourselves to weave new stories of love, restoration, and hope with others in faith, so that we may create the true home where all find fullness of life? As we search for own faithful answers, we are enabled to grow together to be more relational, respectful and grateful toward the actualization of God's kin-dom.  
During this month, I hope that both communities of faith who identify as marginalized and those who are part of the dominant power-base in the United Church would read Don Schweitzer's book and spend some time sharing their own reflections. The dominant congregations can be inspired to shape their Christian identity, learning from the many gifts offered by the (im)migrant people. And it is a great invitation for the ethnic congregations to rediscover their agency to extend the circle of love and solidarity at their liminal space.  
—Woong Youm is Minister at Good Tree Korean United Church in Toronto.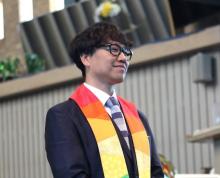 Credit: Woong Youm
Quotes used with permission from Jesus and the Marginalized: Jesus Christ for Koreans in the UCC, by Don Schweitzer and Ohwang Kwon. 
The views contained within these blogs are personal and do not necessarily reflect those of The United Church of Canada.