Mitchell Anderson reflects on how, as people of faith, we can cast a ballot for a better world where Indigenous people can flourish.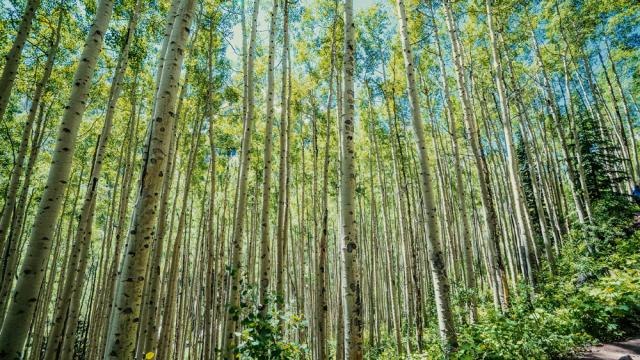 The trembling aspen is a common tree around the author's hometown.
Credit: Photo by Evan Wise on Unsplash
Published On: October 11, 2019
This blog post, originally written in 2019 and updated for 2021, is part of the election resources The United Church of Canada offers people who want to engage candidates in the upcoming election. Issues close to the heart of the church—Anti-racism, Guaranteed Livable Income, Indigenous Justice, and Vaccine Equity are featured as core resources on our Faith and Politics page. Resources also offer helpful hints on how people can ask questions at virtual all-candidate meetings, how to organize an all-candidates meeting, and political activity guidelines for churches.
To this day, I can't drink chocolate milk unless it has been watered down with some regular skim milk. Chocolate milk was a once-in-a-while treat, most often on a payday or a child-tax-benefit day, and to stretch it out we blended it with regular milk. While a harmless quirk today, every time I drink chocolate milk, I am reminded of what it was like to grow up in poverty to a Metis mother and First Nations father doing everything they could to give me a chance at a better life.
I also remember being very young and begging my mother to buy me some kind of treat. She said she didn't have any money for treats, so I told her we could just go to the credit union. She told me that she only had four dollars in her account, and I have never forgotten that day and the pain in her voice. 
Or I think about how, when my father went back to school to finish his journeyperson qualification as a heavy equipment mechanic, my family could barely make ends meet. Or how, to let me have a musical instrument, my parents had to make incredible sacrifices. Or how my mother only finished paying off her student loans the same summer I started university.
And so, as I grew up, I became deeply committed to the idea that our society could be a kinder and fairer place with greater freedom and justice. A good society would be one where people like my parents or kids like me could have a level of security and dignity. 
Then, when I struggled with a time of self-doubt, anger, and fear connected with realizing I was gay, I met Jesus. Born again, I committed myself to the freedom of new life in Jesus Christ, in whom I encounter the same God who freed her people from slavery in Egypt, the same God who still struggles for freedom and justice for all creation. 
We proclaim, in the Basis of Union, "the gospel and vision of Jesus" who lived, taught, and died for us on the cross, and rose again to new life—all to achieve for us and for the world "a compassionate and just society." Every action, from the incarnation where Jesus takes on a human body (Philippians 2:8) to his commandment to the rich to divest their wealth for the sake of the common good (Mark 10:17–27) to his confrontation of the social and economic elites (Mark 11:15–19), challenges the corrupt colonial system that oppressed his people (Luke 19:1–10). Ultimately, Jesus accomplishes God's justice, sets us free through his blood on the cross, and rises to new life in triumph over all powers. 
In all of who Jesus is, we see his vision for the making new of all things—a society where perhaps people like my parents and their children would never have to experience poverty, but would enjoy security, dignity, and freedom. 
This too speaks to the promise at the heart of Treaty 10 negotiated by my late ancestor, Chief William Apesis of the English River First Nation, when he sought to secure for our people the "bounty and benevolence" of Canada, to create a relationship of "peace and goodwill." He too held a vision of a compassionate and just society rooted in the deepest values of dënesułiné chanié, the way of life of the Dene, of sharing and caring. 
And so now, as we face a federal election, as followers of Jesus we are challenged to live out our faith. We must build a compassionate and just society, and do so in ways that allow Indigenous freedom to flourish. 
In our time, we face catastrophic climate change, and in a compassionate and just society we would live with respect in creation, centre Indigenous systems of governance in securing our future, and embed the principles and norms of the United Nations Declaration on the Rights of Indigenous Peoples in our laws. In our time, more than 1.3 million children live in poverty in Canada, and Indigenous children are far more likely than other children to live in poverty. A compassionate and just society would be one where no child lives in poverty, where no family has to make the impossible choices that mine did. 
God's mission is the making new of all things, and so gifts the church to the world to accomplish God's purpose. As followers of Jesus participating in this federal election, may we do so always to witness Jesus' gospel and vision of a compassionate and just society where Indigenous communities can flourish and find freedom.
—Mitchell Anderson is dënesułiné and lives in Saskatoon with his partner Jordan. He serves as lead minister for St. Paul's United Church in Saskatoon. 
Visit our Faith and Politics webpage for resources and factsheets ahead of the federal election.