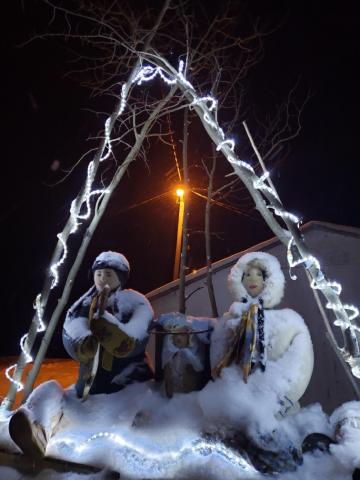 Oxford House
Credit: Elenor and John Thompson
Published On: December 14, 2021
Two thousand years ago a young man, Joseph, and his wife-to-be, Mary, were on a journey from Nazareth to Bethlehem to comply with the order for a government census. It was an arduous trek, especially since Mary was with child and about to give birth. They must have looked forward to re-connecting with family and relatives, and to staying in the local inn. However, when they arrived in the midst of much confusion, they found it almost impossible to find relatives, and they were told "no room" in the inn. They finally found some refuge in a barn. It must have been quite uncomfortable and unpleasant to say the least, yet it provided some shelter and they could rest on the hay.
In the middle of all the stress, Mary gave birth to a baby boy. She wrapped him in swaddling cloths and laid him in the manger. She was told in prophecies, visions, and dreams that this boy is God's Son, to be named Jesus—the Saviour of the World.
As if the anxiety and strains of the past days were not enough, the young couple were told to pick up the baby and flee straightway to Egypt. Egypt was not around the corner. It took Moses and the Hebrew people 40 years to make the same trek.
Out of all this turmoil, suffering, and challenge rose the very Saviour of the World!
Today, we live in a world with unprecedented threats to life on this planet, due to our reckless, selfish and disrespectful behavior—rooted in greed, wealth, and power. Could it be that out of this crucible of pain, injustice, racism (including the cultural, emotional, spiritual, and physical genocide by inhuman systems such as residential schools), and now a pandemic that has swept the world, that God's Truth will rise again to bring Hope, Restoration, Reconciliation and Healing—Newness of Life?
May we join together—all peoples, all races, all Life—in Song, rooted in Love, strengthened in Hope, encouraged and moved by the necessity for Healing, embraced by the Spirit of the Living God—singing "Joy to the World, the Lord is Come. Let Earth Receive Her King. Let every heart prepare him room, and Heaven and Nature sing, and Heaven and Nature sing, and Heaven and Heaven and Nature Sing."
Glory Be to God. Merry Christmas to All.
The Rev. John R. Thompson,
Chair, National Indigenous Council
The views contained within these blogs are personal and do not necessarily reflect those of The United Church of Canada.