People of faith share their collective power at the Sacred People, Sacred Earth Global Day of Action
Credit: Murat Onder on Unsplash
Published On: March 5, 2021
When I close my eyes at night, I am easily transported back to the summer camp of my childhood, where we would sit in a large circle around the glowing campfire, happily worn by the day of outdoor play, the majestic trees sheltering us, and the moonlight beaming down across the lake before us. We would close our evening song time with the final words, "All is well, safely rest, God is nigh." It was in this place that my faith in relation to community and creation found its deep heart connection. 
I am grateful for the faith communities I have encountered around the world which have helped sustain this heart connection for me, while challenging and inspiring me to join in healing the heartache of our suffering planet.
As a representative of The United Church of Canada at the most recent global UN Climate Conference (COP25), I witnessed how faith groups have a respected and influential voice on the world stage. People of faith can participate as key players in the climate justice movement by uniting in our diversity and becoming as large a collective as possible.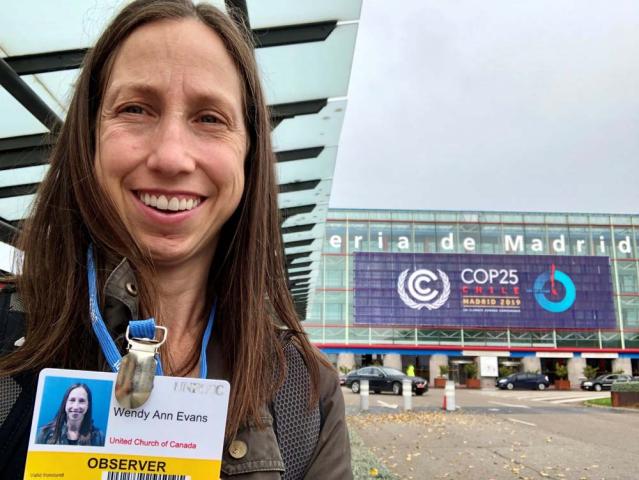 Wendy Evans at COP25 Climate Summit.
Credit: Courtesy of Wendy Evans
On March 11, 2021, people of faith and conscience all around the world are launching the biggest-ever faith-climate day of action, called Sacred People, Sacred Earth. The event is being organized by Green Faith International and will all be done at the grassroots, to activate our shared moral power for climate justice!
The idea is to organize a local gathering with your community and register it on the main event web page or join one that has already been listed. The gathering can take place either virtually or in a physical location with small, socially-distanced groups. Ideally, the gathering would take place for a few minutes beginning at 11:00 a.m. local time on March 11 (to mark the "11th hour for the climate" — the final moment when change is possible). Guidelines and suggestions for gathering content can be found on the main event web page, which includes an official event statement calling for climate justice that you are invited to endorse with your signature.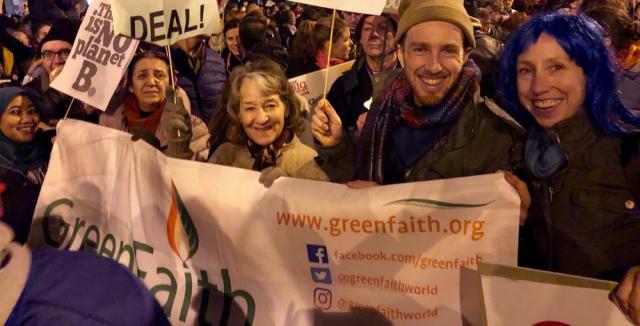 Credit: Courtesy of Wendy Evans
Montreal City Mission (a United Church community ministry), where I serve as chair of the board, is looking forward to participating in Sacred People, Sacred Earth day of action by hosting a virtual gathering in the Montreal region at 11:00 a.m. (EST) on March 11. Along with leadership assistance from Megan McQuirter, a Montreal member of The United Church of Canada Climate Advisory Circle, we will have representatives from diverse local faith communities share a word of greeting, reflect together on the day of action's official statement, and consider ways to support one another in taking further action. Find out more about our action.
Participating in this global faith day of action can serve as a profound heart-connecting moment and inspiring call for us all towards the deeply spiritual and systemic transformation required for climate justice. We hope you will take part!
— Rev. Wendy Evans is an ordained minister in Montreal where she is in an adjunct faculty role at United Theological College and serves as board chair for Montreal City Mission, a United Church community ministry. She represented The United Church of Canada at COP 25 in Madrid, Spain in 2019.

Inspired to participate? Wondering what action you could take? Consider holding a faithful climate conversation or participating in an online letter writing session of the national ecumenical effort, For the Love of Creation, of which The United Church of Canada is a member.
The views contained within these blogs are personal and do not necessarily reflect those of The United Church of Canada.