Rev. Dr. Kyongja (Kay) Cho shares the story of two Korean brothers forced into the military on different sides during the Korean War.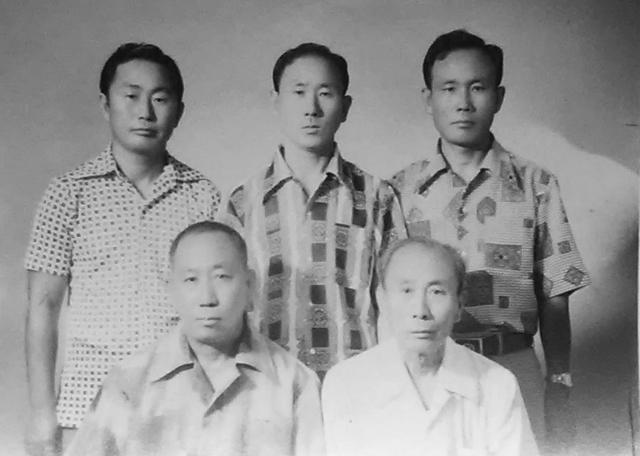 The Cho family brothers and their father: front row, left to right: eldest son ByungSoo and father YoungJib Cho; Second row, left to right: fourth brother ByungHoon, second brother ByungYul/JinTae, third brother ByungJoon,
Credit: Courtesy of Rev. Dr. Kay Cho
Published On: February 23, 2022
The Korea Peace Appeal is a global campaign that seeks to collect 100 million signatures by 2023, the 70th anniversary of the armistice. The National Council of Churches in Korea has challenged The United Church of Canada to add Ten Thousand Signatures by the summer of 2022. Find out more, add your name, and share with your friends.
I had four older brothers. Two of them were forced into military service during the Korean War… on opposing sides. ByungYul, the second eldest, was a soldier in the North Korean army. ByungJoon, next eldest, fought in the South Korean army. How this happened is both dramatic and tragic.
Soon after the Korean War broke out, the shooting and bombing from U.S. and North Korean military troops, meant it was no longer safe to stay in our family home in Seoul. The women and younger children in my extended family moved to stay with a relative in a remote country village. My mother insisted on staying in the partially destroyed house with her three older sons, believing that together they could take care of themselves.
One day ByungYul and ByungJoon, both strong teenagers and fast runners, were sent out to gather any food leftover in the fields and town market. In the process, they were stopped by North Korean soldiers and ordered to get into a truck parked nearby. When they sensed they were being taken to the north, older brother ByungYul pleaded with the soldiers to send his younger brother home, saying that he was only a young boy and needed to look after his old mother at home. His persistent pleas and begging annoyed the soldier in charge so much that he reluctantly let the younger boy go. ByungJoon ran home at full speed and strength, even though his stomach and hands were empty. My mother wept and blamed herself for sending them out in the war zone. From that day forward, our grieving and sighing mother left a back window ajar day and night, be the season warm or cold, hoping and waiting for her second son, ByungYul to escape from the enemy and return home.
Shortly after ByungYul was taken, ByungJoon was caught and drafted by the South Korean army that sought to defend themselves from increasing attacks from the northern troops. ByungJoon was dispatched to the battle frontline, when the Chinese military forces fought with the North Korean army. The fighting grew more fierce and violent. Each day, fellow soldiers fell beside him.
One day, his whole platoon was hiding in a dugout when the Chinese army approached. ByungJoon could hear them talking in Chinese. Fearing an attack any moment, he and his fellow soldiers were shaking, their hearts pounding. Gunshots rang out and ByoungJoon's platoon fell to the ground, one by one. ByungJoon too was shot. He opened his eyes only days later, immobile and in excruciating pain, with bandages over his torso covering wounds after shrapnel had been removed from his chest and abdomen.
ByungYul, the older brother, had been transported to the North. He fought against soldiers from the south, with no knowledge of his enemy. In reality, it was like he was made to aim his weapon against his beloved younger brother whom he had sent home for safety. ByungJoon too was also aiming his gun in action at the frontline of the south, not knowing if this would hit his lost brother in the North.
How more tragic a situation could two beloved brothers face?
ByungYul escaped eventually from the northern army. He was captured and surrendered to the US army and held for three years as a prisoner of war. He was released at the time of armistice in 1953. He changed his name to JinTae, the Korean for "great truth", to celebrate his new life in freedom.
Eventually ByungJoon was discharged from military duty. His wounds tormented him in body and mind for the rest of his life. He died at the age of 81 in 2014. JinTae still lives. Now 90 years old, he continues to be haunted by the nightmares of captivity, escape, and experiences in the prisoner of war camp.
War separates family members. It means loved ones become enemies and kill each other, blindly and cruelly. The terrible scars of war torment survivors for the rest of their lives, remaining in body and spirit.
I live in hope. I pray that before I die I will be able to travel with my one surviving brother, JinTae, to visit our birth town in North Korea. That can only happen when the 69-year long Korean war comes finally to an end and we are able to travel across the Korean peninsula in reconciliation, peace, and freedom. Will you help make this prayer be a reality?
We are called to make peace, not war, in Korea and in all places around our world.
— Rev. Dr. Kyongja (Kay) Cho has served The United Church of Canada as an ordained minister since 1979 in various pastoral ministries and responsibilities. She received an honorary doctorate in 1998 from Emmanuel College–Victoria University. In 2012, she travelled to the Democratic People's Republic of Korea as part of three-person United Church delegation that hosted by the Korea Christian Federation She lives in Richmond Hill, Ontario. Read her Reflections at the Canadian launch of Korea Peace Now Campaign.
The views contained within these blogs are personal and do not necessarily reflect those of The United Church of Canada.