Six-part series helped Kenora residents understand the history of colonization, "a story that Canada really hasn't told before."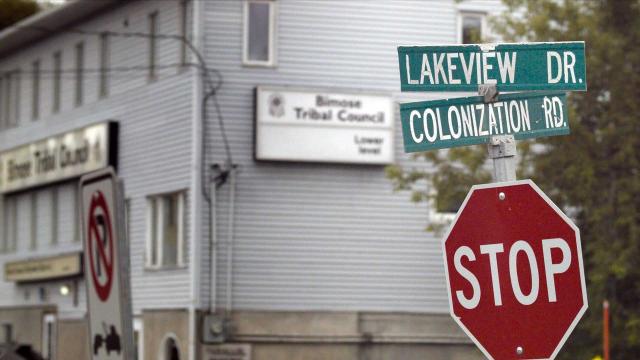 Credit: Courtesy of CBC
Published On: June 19, 2017
If First Nations people in Kenora, Ontario, ever need to be reminded of how their traditional land has been lost to make room for white settlers, they only need to look up at street signs. Many of these in Kenora are named after settler families, but one is a particularly striking reminder of an ugly past. That street sign reads: Colonization Road.
"There are Colonization Roads all over the north," says the Rev. Meg Illman-White, Youth and Outreach Minister at Kenora's Knox United Church. "Each sign makes it seem as if colonization is somehow a past to celebrate."
Filmmaker Michelle St. John made a documentary about the impact of the history of colonization, aptly titled Colonization Road. She interviewed settler and Anishnaabe residents living near or in Kenora and Fort Frances, plus lawyers, historians, researchers and policymakers.
After watching the documentary on CBC, Illman-White wanted more people in Kenora to see the film and engage in conversation about it, so she met with three of the people interviewed. Those discussions led to the formation of a series they named: "Roads to Reconciliation," held over six weeks at Knox United. Moderated by Illman-White and Anishnaabe Elder Cathy Lindsay, its goal was to give participants a better understanding of colonization and its impact on Kenora's Indigenous peoples and on the relationships between cultures that is so tenuous today.
"This thing evolved as it went along," said Illman-White. "We were trying to help settlers understand the story of colonization, which is a story that Canadians really don't know."
At the first meeting, approximately 50 people took part in the KAIROS Blanket Exercise, covering more than 500 years of Indigenous history in a 90-minute workshop. The exercise had tremendous impact on participants. At the second meeting, participants viewed the Colonization Road documentary, followed by a discussion.
Another meeting, titled "Built in Colonization," had participants walk around Kenora and view the town's murals and signs. In discussion afterwards, it was agreed that that majority of the downtown murals focused on settler-colonial history, with only one mural reflecting the town's Indigenous heritage.
For this walk, participants split into small groups. One of the clusters was led by a homeless man who shared a wealth of knowledge of the area and the impacts of colonization with the group.
Illman-White recalls that in several meetings, the "sharing circle became a really sacred story-telling space. Many settlers in attendance heard stories about Indigenous trauma and resilience that they never heard before. At the same time, they began to come into relationship through the circles and time together."
As Indigenous participants told their stories, everyone listened carefully and silently. When it was over, Illman-White recalled that one Anishinaabe woman noted that while talking circles happen all the time in Indigenous communities, this was the first time she has experienced the stories "being held with such respect and sacredness in a mixed group."
"We've all heard the facts about reconciliation, but when you hear a person's story firsthand, that changes everything," Illman-White said. "It shouldn't have to be the job of our Indigenous people to educate us, as in a way it re-traumatizes. But then again, maybe talking helps. I'm amazed at their willingness to put themselves out there. This is a people who don't have an Ojibway word for reconciliation. But a healthy moving forward is based in love and respect for the land which leads to healthier relationships among cultures."
After the series ended in May, Illman-White that one of the participants told the group that he once believed that Indigenous people, "just need to get over it … now I know there is a whole lot more to it than that."
Illman-White praised this honesty and transformation. "To own your own racial bias in a circle, and say, 'I have moved,' takes tremendous courage. Racism is embedded in all of us. It is awareness that allows us to live into a different truth. We witnessed a lot of moments that were very powerful and sacred. It was a great learning experience for all of us."
When asked about future reconciliation work, Illman-White said she hopes to form a group that will work with the town for a new name for Colonization Road. "Let's change the name of this thing to something that has meaning, like an Anishinaabe word that speaks to a different kind of road we can walk together into the future."
-Paul Russell is Communications Coordinator with the Office of the Moderator and General Secretary.
New and diverse approaches to ministry are constantly cropping up across The United Church of Canada, and Embracing the Spirit wants to hear about them. If you are involved with a group that has found an innovative way to approach church, let us know, by filling in the Tell Us Your Story form, found at the bottom of the Spur Innovation page.