Social media allows Siloam United to reach out to young adults and youth, with promising results.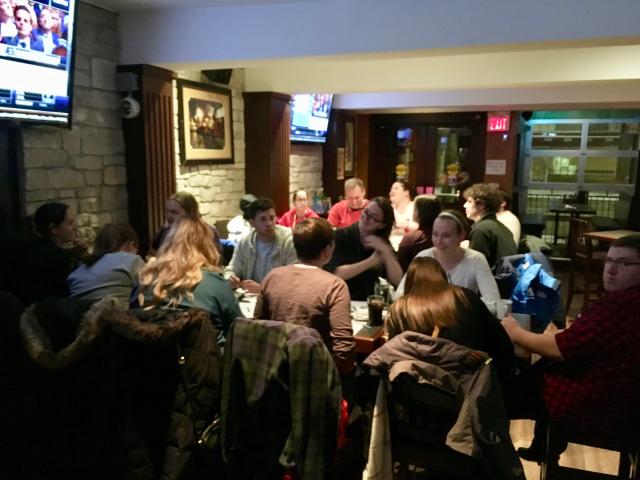 Once a month, young adults from across London Conference gather at a local pub to chat, to laugh and to talk about a specific biblical passage, at a Hops and Hope night.
Credit: Isaac Mundy
Published On: February 16, 2017
In his final year at seminary at The United Theological College in Montreal, Isaac Mundy worked on a special project that looked at the pastoral dimensions of social media and how it can be used for pastoral care.
When he started working as Minister of Youth, Young Adults and Families at Siloam United Church in London, Ontario, Mundy kept exploring social media's outreach, as he launched a Siloam Twitter account, a weekly podcast, and improvements to the congregation's Facebook page.
 "Social media gives me a way to sit down and have a pastoral conversation with young people in a virtual space," he says. "I can build connections in a space that feels safe to them."
Using grant funding provided by Middlesex presbytery and the United Church of Canada Foundation, Siloam launched several new programs including a Children's Soul Groove Choir, a Hops and Hope night at a local pub, and an Open Mic Coffeehouse for young people.  All these segments are brought together each month at an intergenerational worship service led by Mundy.
He uses Facebook and Twitter to invite people to participate in these events, with the Hops and Hope night attracting young adults (ages 19 to approximately 30) from across London Conference to a monthly gathering at a local pub.
The evenings — each with a theme based on a biblical passage — start with free snacks and non-alcoholic beverages (participants can buy their own alcoholic drinks) as Mundy peppers them with trivia questions related to the biblical passage. Participants then break into small discussion groups to talk about the evening's theme, such as the story of Esther or the parable of the Good Samaritan.
Since Esther was a Jewish woman who hid her true identify from the king, out of fear that he would look down on her, Mundy asks those in attendance to think about the times they faced similar situations.
"Are there two parts of you that always seem to be in conflict?" he says, recounting the questions he asked during the event with the Esther theme. "Or can you remember a time it was awkward to tell family members about who you really are?"
"You don't have to have a biblical background to answer those questions," he continues. "I just try to get them to relate to the character in the biblical stories, and to see similar dilemmas in their own lives."
At the end of the evening, he hands out prayer cards, asking participants to finish sentences such as: "God, I have been a little concerned about ________." Mundy then uses the answers given on those cards to help shape the prayers and reflections at the monthly intergenerational worship service he leads at Siloam United.
The Open Mic Night, aimed at teens, is held at a city library. After some snacks, they can take the stage and sing a song, recite a poem, dance, or do any sort of performance art they desire.
"We invite them to come out and perform something that speaks to them," Mundy says, "or they can just sit back and enjoy the show."
This monthly event is co-hosted with other community partners, with teens of all religious backgrounds — or no religious affiliation — invited to attend. "We want to keep it accessible to those coming from a lot of different backgrounds and socioeconomic circumstances," he explains.
Each Open Mic night has a religious theme, but it is presented in a context that young people can relate to. For example a recent theme was "Beautiful Just the Way You Are," based on the current hit by Alessia Cara, Scars to Your Beautiful.
"Since we are working with community partners, and people from different religions or no religions, it is important to do this in a way that is not exclusive to any one group."
The feedback Mundy hears at these Open Mic nights also helps shape the content of his monthly intergenerational service, and his work with the congregation.
"Theologically speaking, we look at how is God at work in the lives of different people, and how do people find meaning in their day-to-day lives? What helps them move through their struggles?"
Mundy congratulated the Siloam congregation and lead minister for starting the youth ministry, and he thanked EDGE for the funding help. "It helps to have this support from EDGE. God is at working not only in Siloam, but in the broader community."
The focus on youth ministry has resulted in an increase in families involved in the congregation, and an increase in donations to the church.
"People want to support a congregation where they see a future," Mundy says.
For more information about Siloam's youth ministry, contact Isaac Mundy.
—Paul Russell is Communications Coordinator with the Office of the Moderator and General Secretary.
New and diverse approaches to ministry are constantly cropping up across The United Church of Canada, and Embracing the Spirit wants to hear about them. If you are involved with a group that has found an innovative way to approach church, let us know, by filling in the Tell Us Your Story form, found at the bottom of the Spur Innovation page.