Drum Circle Worship brings people together in an enjoyable, relaxing atmosphere.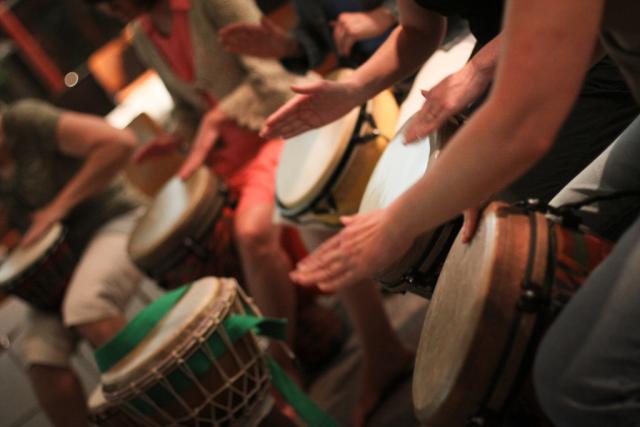 Credit: Jessica Lucia, Flickr, (CC BY-NC-ND 2.0)
Published On: December 7, 2016
For one evening every month, Grace United Church in Hanover, Ontario, is filled with the sounds of group drumming. Leading the session is the Rev. Micol Cottrell, who has led similar groups at two other United Churches in the last five years.
For Cottrell, Drum Circle Worship is much more than just making music.
"Drumming really engages people, as it helps them open up and connect with each other," he said. "It's quite an amazing, meaningful experience."
Each of the monthly Drum Circle Worship sessions has a theme, such as creation, letting go, or new beginnings. During the one-hour session, Cottrell leads the group through various songs, interspersed with some scripture reading, short stories, or poetry. Those attending are also invited to bring their own stories or poems to the meeting, and share them with the group.
"Sometimes the readings are outside the Christian tradition, but the whole thing is connected to the United Church," he said. "It's a Christian worship, yet still a very open experience as well."
Each session starts with everyone drumming a heartbeat rhythm. Cottrell said this allow people to connect with our own heartbeat, each other's heartbeats, the heartbeat of creation, and the heartbeat of God.  As everyone grows more comfortable, he said there is lots of mirth and laughter, and displays of support for each other.
 "When there is a rhythm going, even if you mess up, the groups carries you," he said.
When Cottrell started this group at his last pastoral charge in Bruce Country, Ontario, about a dozen people came out to drum. Most were church members, though one person was part of Saugeen Ojibway Nation. He recalled that she enriched the group by sharing songs, stories, and teachings from her tradition.
"It was a neat way to connect and learn together."
Cottrell was introduced to drumming through the Male Spirituality Circle at Five Oaks, a Christian education centre in Paris, Ont.
"Drumming was a way for group members to come together and open up to each other," he said.
In the sessions at Grace United, Cottrell said group members are welcome to bring their own drums to the sessions, or use one of the djembe drums that he has.
These skin-covered, goblet-shaped drums are played with bare hands, and easy to use, as they only have three notes. (According to reference material, "djembe" comes from the West African saying "Anke djé, anke bé," which translates to "everyone gather together in peace" and defines the drum's purpose.)
"You can't play the drum quietly," Cottrell said, noting it has a therapeutic quality of "drawing you out in a beautiful way. It involves letting go and trusting others."
The drumming circle at Grace United has only been going for a month, but Cottrell says there is already "quite a bit of excitement around it."
To find out more about the group, or drumming as a form of fellowship and ministry, email Rev. Cottrell.
—Paul Russell
Paul Russell is Communications Coordinator with the Office of the Moderator and General Secretary.
New and diverse approaches to ministry are constantly cropping up across The United Church of Canada, and Embracing the Spirit wants to hear about them. If you are involved with a group that has found an innovative way to approach church, let us know, by filling in the Tell Us Your Story form, found at the bottom of the Spur Innovation page.