Palestinian Christians are calling on us to be brave and to take risks, to help bring about a just settlement between them and Israel.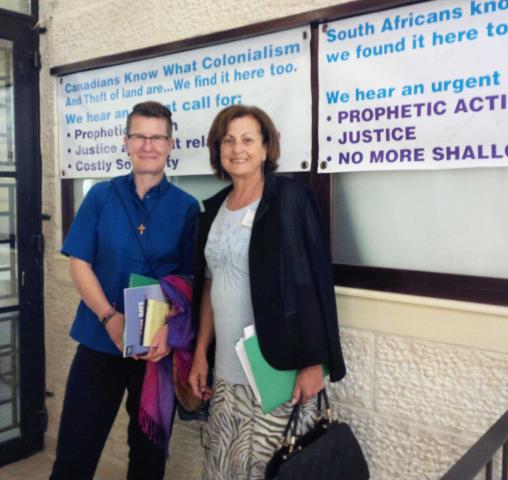 United Church of Canada Moderator Jordan Cantwell, left, and Nora Carmi, a Palestinian Christian peace activist, at the 50 Years of Occupation and the Ecumenical Response conference.
Credit: Courtesy of Jordan Cantwell
Published On: July 6, 2017
At the invitation of the World Council of Churches, Moderator Jordan Cantwell recently travelled to Beit Sahour in the West Bank to take part in a consultation on "50 Years of Occupation and the Ecumenical Response." She talked about that experience with Paul Russell.
Why was this meeting called?
June 2017 marks 50 years of military occupation of Palestinian lands by the State of Israel. Efforts for a negotiated solution have broken down, Israel is rapidly expanding its illegal settlements on Palestinian territory, and the blockade of Gaza has deepened, resulting in a desperate humanitarian crisis.  
In the words of Rev. Dr. Olav Fykse Tveit, General Secretary of the World Council of Churches: "The still-growing matrix of occupation continues to stifle the aspirations of Palestinians for freedom, dignity and an independent state, and to threaten hopes for peace with justice for all people of the region."  
This gathering was an opportunity for Christians from the region and around the world to reflect on the current situation in the Holy Land and on the calling of the churches in this context.
As an expression of our commitment to coordinated ecumenical action for justice and peace in Palestine and Israel, the United Church sent two delegates to this consultation —myself and Patti Talbot, Team Leader, Church in Partnership.
What were the outcomes of the consultation?
Much of the conversation centered on an open letter from the National Coalition of Christian Organizations in Palestine (NCCOP) addressed to the World Council of Churches and the ecumenical movement.  
The letter tells the historical context that has led to the present situation and the impossible conditions under which Palestinians now live. It raises concerns that global solidarity with Palestinians has weakened, in response to pressure from Israel and some interfaith dialogue partners. In the letter, Palestinian Christians call on members of the international ecumenical community to engage in "costly solidarity" – to be brave, to speak and act prophetically, knowing that any risks we take will not at all compare to the risks Palestinians face every single day.
There was consensus among delegates that the letter should guide the work of the WCC going forward. We agreed that the WCC would share the letter with its governing board and with all its member churches, commending it to them for discussion and action. 
I've read the letter online, and I know it includes nine calls for action, some that will require difficult decisions to be made.
Yes, we are being asked to commit deeply to bold and courageous action to end the occupation. Some of the actions called for by our Palestinian partners are things we are already doing. Others invite us to consider new avenues of solidarity that would stretch us. Some of the actions they are proposing may be beyond where our church is willing to go. The first call asks churches to recognize Israel as an apartheid state. This is language that the United Church explicitly rejected at the 41st General Council, when we adopted a report and recommendations [PDF] regarding Israel-Palestine.
What did you tell the conference?
I told the Palestinians that as Moderator, I would bring their letter back to the United Church and share their cry for costly solidarity. I promised I would invite us to wrestle deeply with the issues they have named and how we will respond to their calls for action.
I also acknowledged that some of the actions they are calling for may prove to be beyond us and I couldn't guarantee how our church would respond. That was a very hard thing to say to our partners who are relying on the global churches to help them bring an end to the occupation.
It has caused me to reflect on what it means to be in partnership and solidarity with others. What do we do when those directly affected by an issue call for responses that conflict with our assessment of the best way forward? Whose voices and perspectives are given priority? 
Why was it important for you personally to be at this consultation?
I first visited Israel and Palestine in 2011 as part of a United Church partner visit. That was a very eye-opening experience for me. Since then the situation has become much worse and the people are losing hope that a peaceful resolution will be possible. It was important to me to let our Palestinian partners know that they are not forgotten.
What can The United Church of Canada bring to this conversation?
First of all, we must speak from a place of humility. We must acknowledge that in our own context the church has historically sided with the colonializers. As a church, we continue to benefit from the on-going illegal occupation of Indigenous lands.
We also live in a society that has different laws that govern the lives of settler and Indigenous peoples, and where your racial or ethnic identity influences how you will be treated by the police and courts. We share much in common with the State of Israel... including a commitment to being a fair, just, and democratic society.
In the United Church, we have come to recognize that colonialism and occupation distort the image of the Creator [PDF] in both the occupier and the occupied. We are beginning to understand that our spiritual well-being hinges on our ability to walk together in right relationship with all of our relatives. 
All of this is what we bring to the conversation — our understanding of the deep and lasting damage wrought by unchallenged racist and colonial practices; our experience that good and well-intentioned people can perpetrate and justify great evils; our knowledge that it is extremely difficult to uproot entrenched and systemic injustices, and that to do so requires uncompromising commitment, faithful allies, and unrelenting pressure; and our faith, which teaches us compassion for the oppressor as well as the oppressed.
Although the manifestations of colonialism in Canada and in Israel-Palestine differ in some significant respects, they also have an awful lot in common, and many strands that connect them. It is because of these connections that our commitment to right relations extends beyond our national borders.
What are the next steps for us?
There were four of us from Canada at the consultation, two from the United Church and two from the Presbyterian Church. We've agreed that the first step is to invite a wider ecumenical conversation and response to the call for solidarity from our Palestinian partners. We also need to ensure that our voices, as churches, are heard by our governments and by diplomats on the ground in Israel and Palestine. We have to improve our advocacy and be more strategic about it, to ensure that our message gets out.
Catholic Patriarch Emeritus Michel Sabbah said, "The only remaining hope [for Palestinians] is in the churches' prophetic voice and action. Educate your peoples and your political leaders."
The situation in Palestine is beyond critical. The international churches urgently need to listen and respond to the voices of those living on the ground in the Occupied Territories, before people lose all hope.
—Paul Russell is Communications Coordinator with the Office of the Moderator and General Secretary. He will continue to have conversations with the Moderator about her work, with excerpts from the conversations posted here on a regular basis.