Thoughts, feelings, and prayers from Indigenous leaders as Canada Day approaches.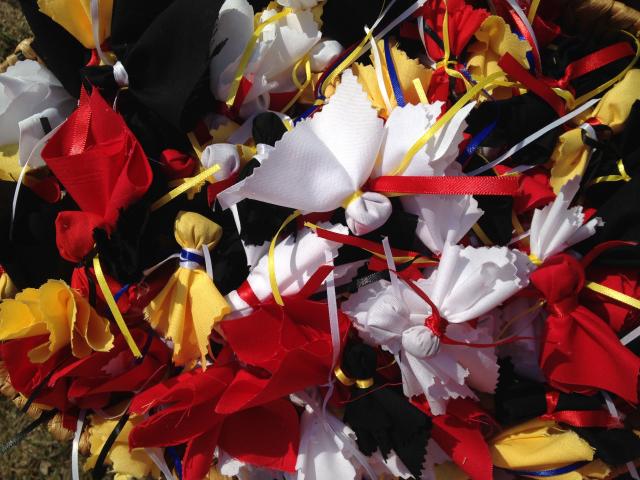 Credit: Sara Stratton
Published On: June 2, 2017
Canada Day is coming. Canada 150 celebrations are intensifying. I wonder how Indigenous people are feeling about it all. I asked a few Indigenous friends and leaders in our church: "If someone from one of our non-Indigenous communities of faith asked you about the 150th year of Confederation, what would say? What thoughts or feelings or prayers would you want to share with us?" Here are their responses...
"One of our Gitxsan metaphors on life is 'Dim amma gaadinqu mel.' When your canoe runs aground or flips over, you have to right your canoe and continue the journey. The Canadian society has to right its societal canoe as a big step in reconciliation! Canada 150 is a good place to begin the journey together with us, the Aboriginals. Our churches have to blow the horn on reconciliation, just like Gabriel. This will go a long way in bringing down the walls of racism."
—Ray Jones,
Hereditary Chief Niis Noolth of the Fireweed/Grouse clan in Gitsegukla, BC
"Heavenly Father, I thank you for the 150 years you have given Canada… I pray that you continue to watch over and protect our land and to continue to unite the people of the lands so that they can flourish and grow as one nation in body and spirit throughout the land..."
—Pastor Lawrence V. Sankey
Co-chair, Aboriginal Ministries Council, The United Church of Canada
"I would just like to include the words of the Ontario Regional Chief. It is a true sentiment of how I feel as a First Nations person on Canada's 150 celebration:
AFN Ontario Regional Chief Isadore Day, chair of the national Chiefs Committee on Health, stated: 'Canada is celebrating the 150th year of Confederation but far too many of our children and youth cannot even celebrate their own lives. This National Circle of Ceremony and Healing for Our Spirits [held on March 17, 2017] is a reminder that much work needs to be done to end poverty and despair. When our youth are able to see hope for the future then all Canadians will be able to celebrate. This will be true reconciliation.'"
—Martha Pedoniquotte,
Chippewas of Nawash Band Councillor; member of United Church Committee on Indigenous Justice and Residential Schools
Maggie McLeod, Executive Minister, Aboriginal Ministries and Indigenous Justice, The United Church of Canada, offers some suggestions to the church:
"Reconciliation begins with recognizing the need to act in new and life-giving ways. Here are three ways in which your community of faith can recognize Canada's 150th anniversary with the lens of reconciliation:
Recognize and give thanks for the abundance that come from this land and all of its peoples.
Recognize that Indigenous Peoples are the original peoples, and were the founding peoples of Canada; and that many cultures make up the fabric of the Canadian identity.
Recognize the need to reflect and make plans for how we will, over the course of the next 150 years, act to make this country a place of that honours the dignity and well-being of all."
Finally, Adrian Jacobs, Ganosono, Turtle Clan, Cayuga Nation, Six Nations Haudenosaunee Confederacy, Keeper of the Circle, Sandy-Saulteaux Spiritual Centre, offers the following Twitter feed: 
#Canada150 - 150 years of the "savage" trope meant to justify the #PolicyOfAssimilation

— Adrian Jacobs (@Ganosono) January 3, 2017
#Canada150 - 150 years of the #NobleSavage trope salving the colonizer's conscience concerning their theft of Indigenous lands.

— Adrian Jacobs (@Ganosono) January 3, 2017
#Canada150 - 150 years of the Canada problem!

— Adrian Jacobs (@Ganosono) January 3, 2017
#Canada150  - 150 years of Indigenous surviving the colonizer's agenda and so begins year 151!

— Adrian Jacobs (@Ganosono) January 2, 2017
#Canada150 Indian Residential School fiasco from 1976 (and earlier) to 1996 - 120+ years of "killing the Indian in the child."

— Adrian Jacobs (@Ganosono) January 2, 2017
#Canada150 2006 Canada counters 6 Nations docs re: illegality of Canada selling Plank Road land with, "We'll have to agree to disagree."

— Adrian Jacobs (@Ganosono) January 2, 2017
#Canada150 1924 Canada deposed legitimate traditional gov of 6 Nations (largest reserve in Canada) & installed elected gov using 13 voters

— Adrian Jacobs (@Ganosono) January 2, 2017
#Canada150
1613 date of 2 Row Wampum/Guswentah Treaty with Dutch 404 years ago -Haudenosaunee still keep & reminded Canada @ #Caledonia2006

— Adrian Jacobs (@Ganosono) January 2, 2017
These are some thoughts, feelings, and prayers Indigenous friends and relations want our whole church to hear. As we mark Canada 150, we need to contemplate them, share them in our networks, and lift them up in worship on July 2, the Sunday closest to Canada Day. As Henry David Thoreau wrote, "It takes two to speak the truth—one to speak and another to hear."
—David Giuliano, Community Capacity Development Coordinator, Aboriginal Ministries, The United Church of Canada