Rev. Taylor Croissant introduces a new book that takes new members and seekers through the traditions and beliefs of the United Church.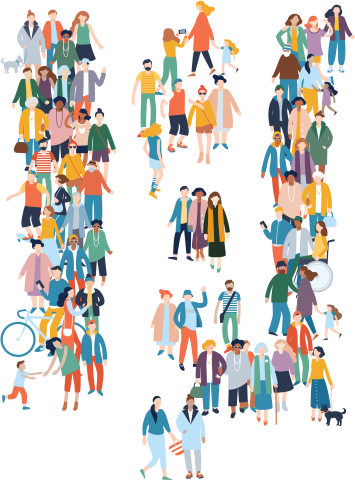 Credit: Dreamstime
Published On: July 5, 2022
An excerpt from Building God's Beloved Community: Discipleship in The United Church of Canada, the United Church's new resource for those seeking to enrich their faith through deeper study.
In recent decades, being a Christian has changed significantly in Canada. It used to be that everyone went to church, so family ties and friendships were strengthened through the church and community events were organized around it. Christians were kind of like salmon, swimming along with the river's current that pushed us toward religious participation. Today, however, church is not a part of people's lives as it once was. Those of us who regularly go to church may now be seen as countercultural.
Interestingly, the Christian faith has, throughout its history, often been countercultural. Christians today are like salmon that swim against the river's current, in a society that pivots toward different activities on Sundays, like sports or shopping. Swimming to the home that we've found in the church is now done outside the mainstream. Similarly, there was once an expectation that people would automatically adopt the religion of their parents, but that is also no longer taken for granted in our culture. It is more correct to say that Christians are not born, but rather made.
Becoming a full member of the church through a period of intentional preparation is an invitation to both relationship and practice. This process first starts by cultivating a relationship with God and seeking to understand God's purpose for our life. As A New Creed teaches us, our purpose together as Christians is "to celebrate God's presence." We were created to enjoy this wonderful world that God has made for us. Our faith aims to put us in contact with the source of our life, and to sing out with joy for all that God has given us. That is why we join together as the church to offer God our worship and praise. A lifelong faith incorporating prayer and study seeks to draw us closer to God.
In addition to considering our life's purpose and our connection to God, our preparation for confirmation or adult baptism gives us a time of structured spiritual formation, rooting us in the tradition of The United Church of Canada. We can explore our understanding of God, how we interpret the Bible, and how our faith and practice have changed over time. We have the opportunity to examine rich and diverse worship practices and be discipled into the wider body of Christ.
Finally, our invitation to relationship and practice seeks to reorient us to community. Christianity is done best in community, and our churches should be places of belonging. Often we use the language of family within the church, but hopefully this love extends past the walls of the church and sends us out to serve those who are broken and hurting in God's world. The call of Jesus to be a disciple is to live a life in the kingdom of God.
I pray this book serves you well in your Christian formation as a member of The United Church of Canada. May the blessing of Christ be always with you.
—Taylor Croissant is the editor of Building God's Beloved Community, and is an ordained minister in the United Church of Canada, currently serving at Southminster United Church in Lethbridge, Alberta.
Building God's Beloved Community: Discipleship in The United Church of Canada is available in print or as an e-book from the United Church Bookstore. The book is rich with history, resources, and practices for those looking to deepen their faith. Written by a variety of authors, faith leaders, and activists. The contributors to the book are:
Susanne Abbuhl is a retired United Church minister, now living in British Columbia. She holds a Th.D. in the Old Testament from the University of Toronto, and previously served on the General Council's Theology and Faith Committee for six years, helping compose A Song of Faith.
Phyllis D. Airhart is Professor Emeritus of the History of Christianity at Emmanuel College and cross-appointed to the Department for the Study of Religion at the University of Toronto. She is the author of A Church with the Soul of a Nation: Making and Remaking the United Church of Canada (winner of the 2016 book prize from the Canadian Society for the Study of Religion and shortlisted for the 2015 Canada Prize in the Humanities from the Federation for the Humanities and Social Sciences) as well as a number of other books and articles on religion in Canada.
Sandra Beardsall is Professor Emerita of Church History and Ecumenics at St. Andrew's College in Saskatoon, Saskatchewan, and an ordained minister in The United Church of Canada. She has served pastoral charges in Newfoundland, Labrador, and Ontario, works and researches in Canadian church history, and participates in local, national, and global ecumenical relations.
Jordan Cantwell was the 42nd Moderator of The United Church of Canada. Grateful to live in Saskatoon, Saskatchewan, on Treaty 6 territory and on the Homeland of the Métis, Jordan currently serves in team ministry at St. Martin's United Church and is part of the Anti-Racism Common Table of The United Church of Canada.
Susan Chisholm is a minister, educator, and lover of life who has lived and worked in the Arctic, East Africa, and the east coast of Canada. She is continually amazed by the abundance in self and community, and the many and diverse ways it comes to light.
Taylor Croissant is an ordained minister in The United Church of Canada, currently serving at Southminster United Church in Lethbridge, Alberta. He has previously served pastoral charges in Northern Spirit Regional Council, and as an ordained supply minister with the United Church's global partner church, the Presbyterian Church in the Republic of Korea.
Robert Fennell is a United Church minister and Academic Dean of Atlantic School of Theology in Halifax, Nova Scotia, where he teaches Historical and Systematic Theology. He is the author of The Rule of Faith and Biblical Interpretation: Reform, Resistance, and Renewal (2018) and 31 Short Spiritual Practices: Getting (Re)started in a Daily Spirituality of Gratitude and Contentment (2021).
Adrian Jacobs is Keeper of the Circle (principal) at Sandy-Saulteaux Spiritual Centre, the national Indigenous ministry training centre of The United Church of Canada in Beausejour, Manitoba. He is Ganosono (deer lodge) of the Turtle Clan, Cayuga Nation, of the Six Nations of the Grand River, Ontario. Adrian is also the father of three sons and two daughters, and grandfather of two grandsons and one granddaughter.
William S. Kervin is Associate Professor of Public Worship at Emmanuel College of Victoria University and the Toronto School of Theology at the University of Toronto. Ordained in the United Church, he has served congregations in the Maritimes and Ontario, and has been active in the production of its worship resources.
 YunJung Kim is a doctoral graduate of Emmanuel College in the area of postcolonial feminist theology and migration theology. She currently serves in ministry at Downsview United Church in Toronto.
Andrew Kinoti Lairenge serves in ministry at Chalmers-Wesley United Church in Quebec City, Quebec. He has a Bachelor of Divinity from St. Paul's University Limuru Kenya and a Master of Theological Studies from Drew University in New Jersey. Currently, he is a Ph.D. student in the New Testament and Early Christianity at McGill University. Andrew was ordained in the Methodist Church in Kenya before coming to The United Church of Canada.
Andrew O'Neill has served in full-time ministry in The United Church of Canada since completing his Ph.D. in theology in Edinburgh, Scotland. Andrew currently serves at St. Paul's United Church in Riverview, New Brunswick. Andrew is also a sessional instructor for Atlantic School of Theology, teaching courses in theology, ethics, worship, and pastoral ministry. His book, Tillich: A Guide for the Perplexed, is available from Bloomsbury Publishing as part of its series on prominent theologians.
Bill Richards was Professor of New Testament Language and Literature at the College of Emmanuel & St. Chad, Saskatoon Theological Union, from 2000 to 2015. He has been a minister in the United Church since 1978 and a priest in the Anglican Church since 2007, serving congregations in Saskatchewan, Manitoba, and Ontario. His academic interests focus on the letters, hymns, and poetry of early Christianity, particularly those from the circle around Paul, and the socio-political circumstances that gave rise to such texts.
Don Schweitzer is McDougald Professor of Theology at St. Andrew's College in Saskatoon, Saskatchewan. He is an ordained minister in The United Church of Canada, and the author of Contemporary Christologies(Fortress Press, 2010) and Jesus Christ for Contemporary Life (Cascade Press, 2012).
John H. Young is an ordained United Church minister who currently serves as the Interim Principal of Emmanuel College in Toronto, Ontario. Previous to this role he served as the Executive Minister of Theological Leadership in the General Council Office. He has written a number of book chapters and is the co-author, with the Rev. Dr. Catherine MacLean, of Preaching the Big Questions: Doctrine Isn't Dusty (Toronto: United Church Publishing House, 2015)
The views contained within these blogs are personal and do not necessarily reflect those of The United Church of Canada.