Young, Portuguese-speaking people are flocking to a downtown Toronto church.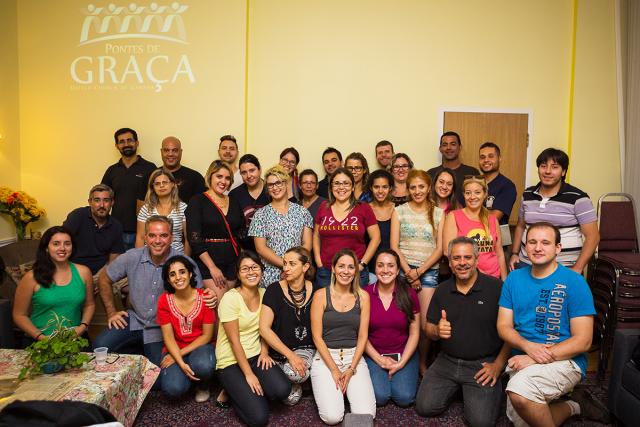 Credit: Pontes de Graça
Published On: October 12, 2016
If you want to see how The United Church of Canada is building bridges to specific groups in Canada, look no further than College Street United in Toronto. For the past 18 months, this downtown church has been home to Pontes de Graça, a lively ministry aimed at Portuguese speaking people in the city.
The group is led by Ricardo Silva, a Brazilian and former Baptist pastor.  He's now a United Church minister who, along with his group, welcomes all Portuguese speaking people and others, regardless of their age, sexuality, or level of belief.
"Our services are very contemporary," he says. "They are done in a United Church context, but the difference is they are in the Portuguese language.  We have music, we have prayer, and we have fellowship. A lot of fellowship. No matter who you are, you are welcome to come, with your doubts and your problems."
Up to two dozen Portuguese speaking people, ranging in ages from 25 to 40, attend evening services each Sunday at the church. Silva expects that number to grow, as word about Pontes de Graça (which means "Bridges of Grace") spreads, through word-of-mouth as well as on Facebook, where Silva maintains a frequently updated page filled with videos from the ministry.
He explains the short videos and "asks people to engage in conversations about how to solve problems, when faced with certain circumstances."
Every Tuesday, Silva and volunteers lead free English as a Second Language classes at College Street United. Demand for the classes has been strong, with the first class attracting more than 60 people. Silva is now leading his third group at the church, as he firmly believes that learning English is key to a successful integration into the broader Canadian community.
"English is a bridge," he explains. "Learning English is an important thing to do if you live in Canada. So we want to help people engage in the Canadian way of life."
Some people drawn to the ESL classes have become regular attendees at the Sunday church service. "They see how well we are treating them and others," Silva says. "They see that we care for the community."
The Pontes de Graça ministry spreads well beyond the church walls, as Silva tries to be everywhere in the Toronto Portuguese speaking community, one of the largest outside of Brazil and Portugal. He explains he builds trust and contacts over coffee, in hospitals, in pubs or at community centres.
"In our culture, getting together and talking is very important. And music. Music is very important as well.
"The United Church has been very welcoming to me," he added. "The church has been giving me lots of oxygen to breathe, a necessity for personal, spiritual, and community growth."
Silva credits Chris Levan, the minister of College Street United, for offering invaluable guidance to him over the past 18 months.
"Chris continues to be a great mentor to me," says Silva. "When I have difficulty understanding something, he is always welcoming. With love and respect, he offers good suggestions on how to address an issue.
Along with receiving in-kind support from College Street United, Pontes de Graça is supported financially by the Toronto Southeast Presbytery and the General Council's EDGE network, which funds innovative ministry development.
For more information about the group, email pontedegraca@gmail.com or check the Facebook page Pontes de Graça.
Paul Russell is Communications Coordinator with the Office of the Moderator and General Secretary.
New and diverse approaches to ministry are constantly cropping up across The United Church of Canada, and Embracing the Spirit wants to hear about them. If you are involved with a group that has found an innovative way to approach church, let us know, by filling in the Tell Us Your Story form, found at the bottom of the Spur Innovation page.