In a microblog for Advent Unwrapped, Rev. Maria Christina Conlon reflects on the hope found in the story of Hagar in Genesis 16.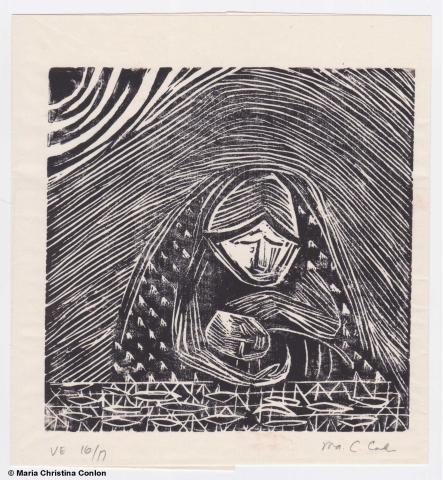 Credit: © Maria Christina Conlon
Published On: November 23, 2022
"What do you hope for in the new world?"
Hagar was an enslaved Egyptian who was given by her mistress to her mistress' husband so that they can build a family through her. When she became pregnant her mistress felt despised by her, so she mistreated her. She fled and the angel of the Lord found Hagar near a spring in the desert, and he told her to return to her mistress and submit to her, for she will have descendants too numerous to count and her son, who will be named Ishmael, will be a "wild donkey of a man." 
She gave this name to the Lord who spoke to her: "You are the God who sees me," for she said, "I have now seen the One who sees me." 
Later, when she was sent off with her son so her son will not inherit from the Sovereign Couple and wandering in the Desert of Beersheba, dying of thirst, God revealed to her a well of water. 
She who was used, discarded, and excluded saw and was seen by God. 
 — Rev. Maria Christina Conlon is the Davenport Perth Community Minister in Toronto. She came from the Philippines in 1972 and has been actively engaged as a community organizer in the communities where she has lived in Canada. As she serves both locally and internationally in community organizing, development, and advocacy, she recognizes the need for discerning the unseen. She was ordained by Shining Waters Regional Council in May 2022.
This microblog is part of the Advent Unwrapped collection of worship resources and spiritual practices.
The views contained within these blogs are personal and do not necessarily reflect those of The United Church of Canada.